Celebrating commitment to student success and college completion
About the awards
The Lee Noel-Randi Levitz Retention Excellence Awards program was established to honor the retention achievements of regionally accredited postsecondary institutions throughout North America. Established in 1989, there have been over 170 institutions recognized to date.
The purpose of the Awards program is to identify and recognize the most successful student success and retention programs in use from a variety of institutions serving a diverse range of students, and to share those programs nationally. These award-winning programs serve as models of retention excellence and offer other institutional leaders opportunities to emulate these programs on their own campuses.
Applications for 2018 are currently closed.
Compendium of Retention Excellence Awards Winners, 1989-2018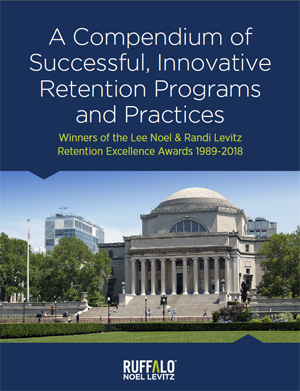 This document contains case studies of more than 170 campus retention programs that have been honored with a Retention Excellence Award.
The winner will receive a conference registration, recognition, and presentation session at the Ruffalo Noel Levitz National Conference; and will be a featured presenter in a national webinar hosted by Ruffalo Noel Levitz.
Criteria for winning a Retention Excellence Award
Applications are reviewed by a national selection committee. Awards recognize integrated and successful retention outcomes. The areas listed below, which cover a wide array of academic and student service units and targeted populations, suggest the broad range of areas for which institutions might apply:
• Minority student retention
• Adult and returning learner retention
• Commuter student success
• Academic advising
• Career services
• Orientation/first-year programs
• Second-year programs
• Student assessment
• Career development
• Academic support services
• Residence life/student activities and leadership
• Student information and tracking systems
• Early-alert programs
• Faculty/instructional development
• Staff/management development
• Institutionwide retention efforts
• Online learning programs
Selection criteria
Program and institutional nominees are judged on several criteria:
Clarity of purpose
Identifiable and measurable institutional outcomes
Originality and creativity in program conception and implementation
Use of resources
Adaptability for use at other institutions
Questions about the Retention Excellence Awards?
Please email Janene Panfil of Ruffalo Noel Levitz.