Fundraising Strategies That Engage Your Donors to Give the Most
Reach Donors in Any Channel
Using data and donor-driven engagement, RNL delivers more intelligent campaigns that reach the right donors at the right time with the right offer through the right set of channels.
With a holistic set of solutions rooted in these modern, best-in-class approaches, RNL powers a comprehensive array of fundraising programs, engaging and developing donors at each stage in their philanthropic journey—and meeting the needs of colleges and universities in a time where pressure is increasing to raise more funds. These connected, scalable alumni engagement strategies create a more powerful way to increase fundraising results.
Talk with our fundraising experts
Let's talk about how you can increase donor engagement and strengthen your donor pipeline. Ask for a free consultation with our experts.
How to Transform Leadership Giving Outreach
Join us for this webinar to hear about how to build a roboust pipeline for leadership giving. You will find out about a revolutionary new solution, RNL Leadership Giving, that:
Gives your team the tools they need to contact the best leadership giving prospects at scale and provides a great donor experience.
Integrates outreach across texting, video messages, email, and calling.
Prioritizes the best prospects with tested modeling and prompts what to do next.
Makes giving easy with a low-friction giving portal.
Does it all at one-third the cost of other solutions available today.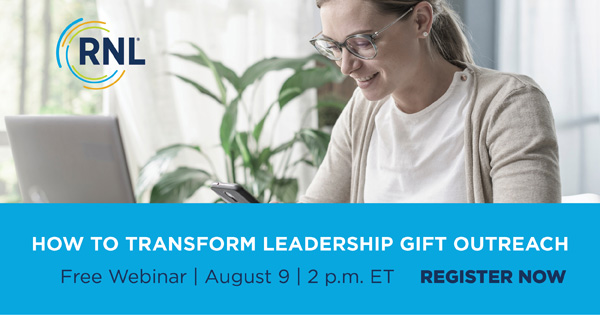 Complete Suite of Omnichannel Fundraising Solutions Elevate Donor Engagement and Giving
These suites of solutions also work independently, allowing you to focus on specific fundraising
management challenges. Explore them and see how you can engage and develop donors
at every level for successful fundraisers.
Why Choose RNL to Build Your Pipeline?
40,000+
major donor and planned giving conversations facilitated by RNL giving professionals
6 Million +
conversations held with donors, alumni, and students annually
1,900+
client institutions across the U.S., Canada, and around the world
$1 Billion +
funds raised through RNL-designed campaigns
Research and case studies