Discover your ideal strategies for donor engagement with actionable fundraising market research
Campuses throughout the United States have turned to RNL to become more data-informed in their decision making. Our comprehensive research capabilities and extensive consulting experience help you make the right choices for fundraising innovation, engagement, and growth.
Fundraising market research for key donor populations
By studying key populations, your institution can make more informed decisions on how to connect constituents' passions with areas of impact and greatest need on campus. Our unique research methodology will help you better understand constituents' perceptions and desired engagement for key populations. Our experts have extensive experience in higher education research and can provide the optimal approach for your research interests.
Read the 2021 Young Alumni Engagement and Philanthropy Report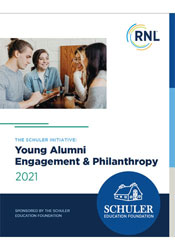 Find insights into the motivations and behaviors of young alumni in this study by RNL and the Schuler Education Foundation, based on a survey of more than 7,000 young alumni.
FREE CONSULTATION
How can you use fundraising market research to guide your donor engagement strategies and uncover new opportunities for success? Start with a free consultation with RNL's research experts.
Available fundraising market research services
Additional Fundraising Solutions from RNL
Fundraising Consulting
RNL Fundraising Consulting delivers data-driven strategies from a team of experienced consultants who will address your specific goals and challenges.
Annual Giving
RNL's Annual Giving solutions enable you to engage more constituents through omnichannel outreach built for the smartphone era.
Digital Giving Solutions
RNL's solutions for crowdfunding, Giving Day, and AI-powered alumni engagement provide ways to energize and engage donors at scale.