Fundraising Consulting That Works
People are constantly changing. The manner in which your supporters are experiencing the world, gathering information, and connecting back to your institution is fluid and complex. You simply can't keep up with every new opportunity to engage your existing donors and draw in new donors without help. But when you invest in a consultant, it's important that you get real, actionable advice based on data.
RNL Fundraising Consulting delivers data-driven strategies that address your specific goals and challenges. Our team of experienced consultants focuses on concise, immediate solutions that get you quickly on the road to greater success. Choose RNL Fundraising Consulting when you're looking to transform your engagement strategy, reach new participation or giving goals, or launch a new donor engagement channel.
Read the 2021 Young Alumni Engagement and Philanthropy Report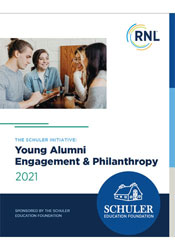 Find insights into the motivations and behaviors of young alumni in this study by RNL and the Schuler Education Foundation, based on a survey of more than 7,000 young alumni.
Fundraising consulting with less talk, more data and strategy
You don't hire a consultant to tell you what you already know. RNL Fundraising Consulting focuses on deep dives into your current strategy, data, and industry-standard metrics to provide actionable insights. We then break down key next steps based on this analysis to help you reach your goals.
Let's talk about how to achieve your fundraising goals. Ask for a free consultation.
More fundraising solutions from RNL
Fundraising Market Research
RNL's experienced researchers can provide you with actionable research that reveals optimal strategies for your fundraising goals.
Annual Giving
RNL's Annual Giving solutions enable you to engage more constituents through omnichannel outreach built for the smartphone era.
Digital Giving Solutions
RNL's solutions for crowdfunding, Giving Day, and AI-powered alumni engagement provide ways to energize and engage donors at scale.
Fundraising Research and Resources