Find the Perfect Platform for a Seamless Giving Day
Giving days are gaining in popularity and are a powerful way to drive alumni participation, acquire new donors, and increase student engagement. A 24-hour fundraising event creates a sense of urgency, competition, and community—all factors that boost giving. But, it takes the right team, tools, and tactics to be successful.
RNL Giving Day Powered by ScaleFunder is the only platform that combines dynamic storytelling and volunteer management into one easy-to-use tool. Plus, our network of experts and industry-leading insights ensure your giving day excites your campus, engages donors, and raises more.
Plan and launch a donor-friendly Giving Day site that reflects your brand and campaign goals
Activate, empower, and track ambassadors to extend your reach and increase giving through social proof
Create challenges, track matches, push social media posts, and email donors all through one scalable, easy-to-use platform
Interactive RNL Digital Giving Index
See digital giving benchmarks in the RNL Digital Giving Index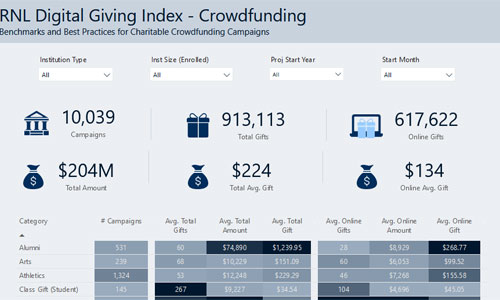 Dive into our interactive benchmarks for crowdfunding and giving days, compiled from more than 10,000 campaigns.
Maximize your results with RNL Digital Dialogue–Giving Day
RNL Giving Day includes RNL Digital Dialogue–Giving Day. Build excitement before and during your giving day to engage more donors using our fully managed targeted digital advertising solution. Reach donors where they are through thousands of websites, social networks, and mobile apps.
NEW for RNL Giving Day: AL, RNL's AI chat for fundraising
RNL Giving Day can now include AL, our AI chat solution for fundraising. See how this conversational AI lets you have intelligent, natural one-on-one conversations with donors any time of day or night. Learn more about AL.
See RNL Giving Day for yourself and how it gives you all the tools you need to have a world-class giving day.
Why choose RNL Giving Day to amplify your fundraising?
Dynamic and Flexible Tools
Make it easy to customize and optimize your giving day from inception to stewardship
Real-Time Data and Analytics
Show up-to-date stats on donations, donors, ambassadors and more
Seamless Payment Integration
For an optimized checkout process that securely delivers funds directly to you
Raising $300,000 and connecting with more North Dakota State University alumni

"Whether your community has a large giving day or are doing something small, I highly recommend building it into your annual giving strategic plan and philosophy. This is how people want to be asked."
See RNL Giving Day for yourself and how it gives you all the tools you need to have a world-class giving day.
Additional Digital Giving Solutions
RNL Crowdfunding
Boost giving through an innovative platform that has fueled more than 5,000 successful fundraising projects.
RNL QuadWrangle
Make fundraising campaigns easier, faster, and smarter with this AI-driven alumni engagement platform.
Read insights on Giving Day strategies and results