student success
College Tuition Paid Is a Worthwhile Investment: Communications to Change Perceptions
There is a long stream of sound bites in the media about tuition value that prospective students, current students, their parents, and recent graduates hear that may make them question the value of their degree and their willingness to invest in higher education. With more than 25 years in higher education consulting and with a daughter who recently graduated from a four-year college, I realize I may be more sensitive to these references in the mainstream media. However, it is definitely a topic that many are talking about and writing about.
I recently Googled the phrase "tuition paid worthwhile" and got 2.8 million results in 0.55 seconds! That's a little overwhelming, right? What's even more amazing is that when I did a similar Google search in 2015, I got 1.9 million results in 0.65 seconds (which tells you that there are even more articles AND Google's search engine is even faster now!) Try it for yourself and see what stories pop up. At a minimum, it is important for you to understand what your students may be hearing and seeing on this topic.
What I found is that some of these articles say yes, tuition is worthwhile but many say no it isn't. Since the pandemic, when institutions moved courses online or to hybrid models, there are even more stories about students and families questioning a tuition dollar amount when the education provided is not what was originally advertised.
I believe it is up to us in higher education to counter negative messages with the actions that we take on campus to provide the best quality experience along with emphasizing the positive in all of our communications. Our messaging is where we have the power to position tuition as a worthwhile investment, and specifically our own campus's tuition as offering value to the student. We can't control what is being said out in the world, but we can control the communication activities that we have in place to our own current and prospective students and their families.
For years, I have been talking about the perception of "tuition paid is worthwhile" as part of my work with tracking and understanding student perceptions as part of the annual National Student Satisfaction and Priorities Report preparations. I work with hundreds of four-year and two-year colleges and universities, public and private, each year as they assess student satisfaction and then use that data to inform decision making on campus. "Tuition paid is a worthwhile investment" has been a topic of conversation year after year.
What do the national data say about student satisfaction with tuition being worthwhile?
The conclusion from this chart is that the more students likely pay in tuition, the less satisfied they are with it being a worthwhile investment.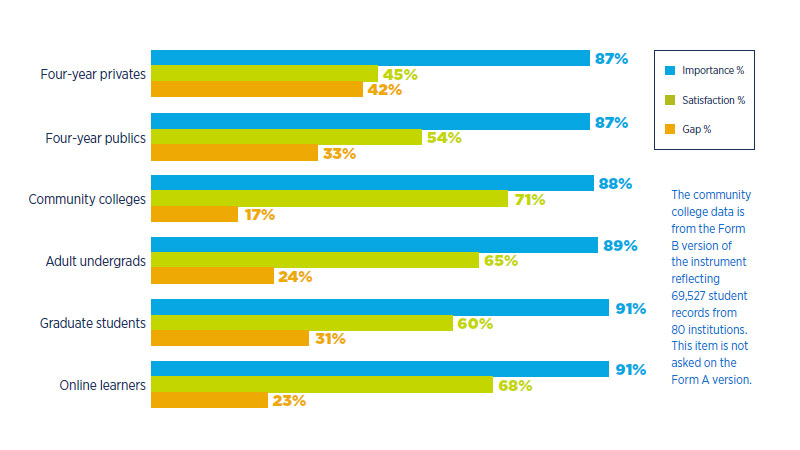 This chart reflects the percentage of students indicating that this item is important or very important to them along with the percentage who indicate that they are satisfied or very satisfied.(The gap score is the importance score minus the satisfaction score.) These data are from the 2020 National Student Satisfaction and Priorities Report.
"Tuition paid is a worthwhile investment" is typically identified as an institutional challenge at four-year private and four-year public institutions, because of its high importance and lower satisfaction score, meaning it is a top priority for improvement on colleges and universities around the country.
Optimize the student experience at your campus
The RNL Satisfaction-Priorities Surveys provide actionable data that increase student retention and completion, provide insights for campus planning, and increase the likelihood of alumni giving. Find out how they can benefit your campus.
Communication as a method to change perceptions
Keeping in mind the adage that perception is reality, there is an opportunity to influence perceptions with communication activities. Too often colleges try to ignore the elephant in the room by not talking about tuition, but I think it is better to address the topic in a proactive manner. Here are three potential audiences to influence, keeping in mind that communication strategies can often be low-cost, high-impact activities.
1. Build the case when you are recruiting new students (and their families)
Set the stage early and often on why your tuition price is worth the investment for prospective students and highlight what you are uniquely providing students with their potential investment with you, compared with their other options. Emphasize that the sticker price tuition amount is not what students are likely to pay with the combined discounting opportunities of financial aid.
2. Reinforce the message with currently enrolled students (and their families)
Don't take for granted that your students and their parents fully recognize the tuition value they are receiving, especially when they are in the midst of paying the fees and navigating the financial aid documentation. Look for opportunities to connect the dots between the dollars they are spending and the services that are provided to them while they are enrolled. These messages can be important retention efforts to keep students enrolled and willing to continue to commit financially for subsequent years.
3. Continue to share these message with recent alumni
This is the group that may be deep into paying student loans and questioning if the debt is worth it. You don't want to leave them with any doubts about the quality of the experience you provided and how it best positioned them for their careers and long-term success in life. Alumni with a positive perception of you after graduation are more likely to stay engaged with the college and to build your reputation into the future.
See how you can communicate the value of your tuition to students and families
I have prepared a handout with specific ideas and suggestions for ways to communicate with each of these populations. Email me to request a copy and I will be happy to send it to you. You can also watch my RNL National Conference session on this topic as well as the dozens of other presentations on demand.
Ultimately, "tuition paid is a worthwhile investment" is a perception about your institution, a perception that you have the power to influence by the actions you take and the messaging you intentionally provide. If you are not sure about how satisfied your students are with the value of your tuition, I encourage you to gather student feedback in this area by administering one of the Satisfaction-Priorities Surveys from RNL. We have found that even the process of administering a satisfaction survey can show students that you are interested in listening to them and to making improvements in the areas that they care about. That may be extra important during times such as these. Learn more about the RNL Satisfaction-Priorities Surveys.
---