Assess adult students in graduate or continuing education programs
By using the Adult Student Priorities Survey, you'll see what's important to your adult students and how satisfied they are, along with national benchmark comparison data. You can also administer it to meet accreditation requirements (items are mapped to the HLC and SACS criteria).
Survey adult learners 25 years of age and older in:
Evening programs
Weekend programs
Continuing education
Credit and non-credit courses
Graduate programs
Undergraduate programs
National Adult Student Satisfaction and Priorities Report
How do the satisfaction and priorities of adult students compare to traditional college students?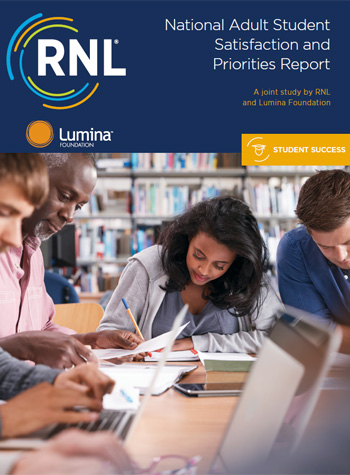 Find out in this joint study by RNL and Lumina Foundation. This report examines data from nearly 370,000 adult and traditional-aged students at community colleges, four-year public institutions, and four-year private colleges and universities.
See Samples of the Adult Student Priorities Survey:
Read what campuses say about this survey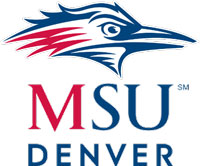 "We use the findings to shape our strategic direction. Every year in our strategic planning meetings we ask: What are some actionable items we can take to close these gaps?"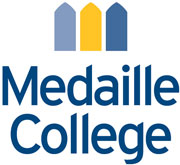 "The Ruffalo Noel Levitz Adult Student Priorities Survey measures our adult students' opinions in terms of importance and satisfaction on a number of services, programs, and experiences. This instrument has been critical in Medaille College's efforts to make data-driven decisions in terms of assessment and increased retention."
Some Adult Learner Priorities Survey clients include:
Azusa Pacific University, CA
Bryan College of Health Sciences, NE
College for Creative Studies, MI
Colorado Tech Universities, including Colorado Springs, Aurora, Westminster
Eastern University, PA
Fielding Graduate University, CA
Friends University, KS
Indiana Wesleyan University, IN
Loyola University New Orleans, LA
Marylhurst University, OR
Mount Washington College, NH
New England College of Business and Finance, MA
Northwest Christian University, OR
Pepperdine University, CA
Resurrection University, IL
Troy University, AL
Virginia Commonwealth University, VA
Youngstown State University, OH
Additional Solutions for Student Success
RNL Student Success™
Discover the most comprehensive way to nurture and develop successful students from pre-enrollment through graduation.
RNL Student Retention Predictor™
Identify student retention risk factors through advanced analytics.
RNL Retention Management System Plus™
Increase retention and completion with these early-alert and motivational assessments.