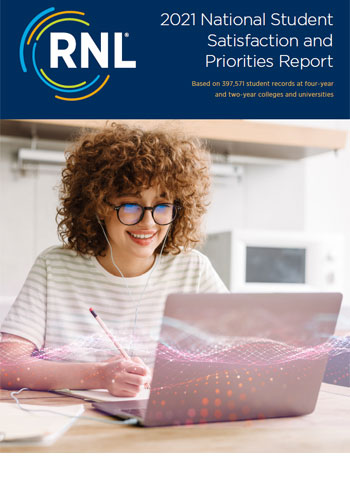 Read our college student satisfaction report on how student perceptions have changed during the pandemic
See our analysis of nearly 400,000 student records covering key issues in the college experience.
College student satisfaction matters more than ever in the post-pandemic world. As higher education continues to adapt to an environment where nearly every aspect of the educational experience has been altered in some way, colleges and universities need solid, reliable data on what is important to students and how satisfied they are.
RNL's college student satisfaction report provides fresh insights into how the priorities and concerns of college students have changed beteween 2019-21. This report analyzes data from nearly 400,000 student records at four-year and two-year institutions. Julie Bryant, vice president of student success and author of the report, shares what you'll learn:
.
See how satisfaction has changed among key populations: traditional undergraduates, adult learners, and online learners.
Learn how students rate the quality of instruction, availability of financial aid, value of tuition, and other key areas of the college experience.
Find out which factors contributed to students deciding to enroll at their institutions.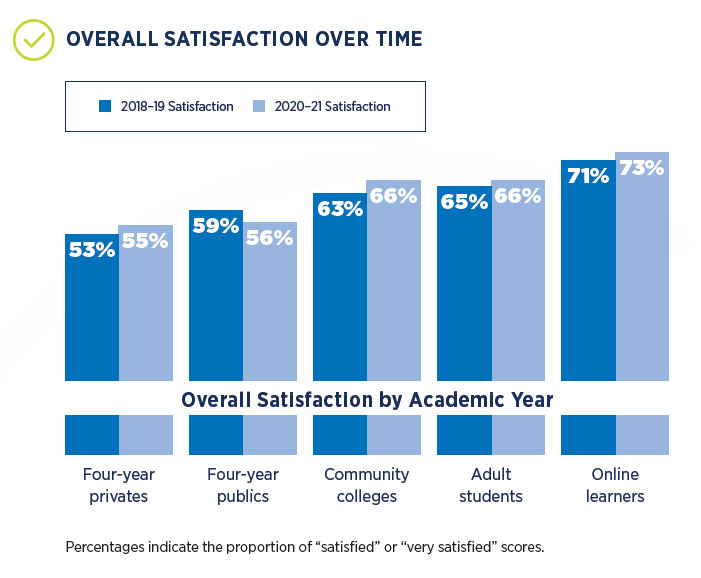 Complete the form above to receive your copy of this college student satisfaction report.
Data for this report was compiled using the RNL Satisfaction-Priorities Assessments, a suite of benchmarking tools used by more than 3,000 colleges and universities for the last 25 years.