Summit Agenda with On-Demand Links
Thank you for making the 2020 RNL Advancement Innovation Summit a BIG success!
We are so grateful to the more than 1,400 fundraising professionals who joined us for our first-ever virtual RNL Advancement Innovation Summit! We hope you found the experience insightful, inspiring, and fun!
But the fun isn't done—you can watch select sessions from the Summit on-demand until September 2021!
Please note that keynote session and fishbowl sessions are not available on-demand. However, you may still contact the fishbowl sessions host to request presentation materials, share feedback, discuss your institution's current fundraising needs. Just click the links under the fishbowl sessions below.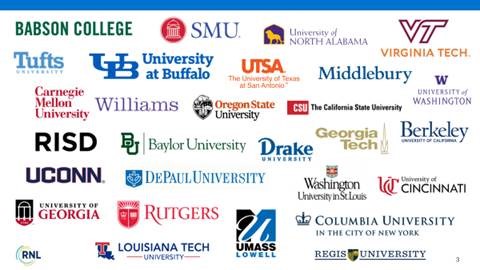 Thursday, September 17
Keynotes and Sessions
---
RNL Welcome from Sumit Nijhawan, CEO
Watch Now Watch Now with Captions
---
Opening Keynote:
Vu Le, Founder of NWB Consulting, NonProfit AF and co-founder, Community Centric Fundraising
"Six questions to challenge the norm in donor engagement" (not available on-demand)
---
Innovation in Action Case Study: The University at Buffalo
With Geoff Bartlett, Assistant Vice President, Annual Giving
Watch Now Watch Now with Captions
---
Advancement Leaders Panel: Beyond Business as Usual
Hosted By Renée Vaillancourt, Executive Vice President of Client Success and Sarah Kleeberger, Senior Vice President, Fundraising Consulting
Edward Chiu

, Senior Vice President for Advancement, Babson College

 

O'Neil 

Outar

, Vice President for Institutional Engagement, Rhode Island School of Design

 

Megan Morey

, Vice President for College Relations, Williams College

 

Scott Roberts, President/CEO, University of Connecticut Foundation
Watch Now Watch Now with Captions
---
The FY2021 RNL Innovation Roadmap
Josh Robertson, Senior Vice President for Product Strategy 
Fishbowl Discussions
---
Key Issues in Advancement Fishbowl Discussions
Click the links below to contact the RNL session host:
Friday, September 18
Key Innovation Downloads and Sessions
---
Amplify Lifetime Engagement with 
Jarrod Butler – Account Executive, Enterprise Education
Chantal St.Louis Augustin – Lead, Education Vertical Marketing
Watch Now Watch Now with Captions
---
Challenging the Norm in Donor Relations
Lynne Wester, Donor Relations Guru
Watch Now Watch Now with Captions
---
Advancement Leaders Panel: the FY21 Outlook
Hosted by Chris Bingley, Senior Vice President and Meg Weber, Vice President

Karl Miller Lugo

, Vice President for Advancement, University of Texas at San Antonio

 

Lori Redfearn

, Assistant Vice Chancellor of Systemwide Advancement, California State University 

 

Josh 

Harraman

, Vice President for Alumni Engagement, Annual Giving, and Advancement Communications, Rutgers University

Colleen Fitzpatrick

, Vice President for Advancement, Middlebury College 
Watch Now Watch Now with Captions
---
Key Innovation Downloads
Click on the links below to watch the on-demand recordings:
---
Innovation in Action Case Study: Southern Methodist University
Alexandra Stoops, Director of Direct Marketing 
Watch Now Watch Now with Captions
---
Conference Close & Key Takeaways
Fishbowl Discussions
---
Key Issues in Advancement Fishbowl Discussions
Click the links below to contact the RNL session host: