Find the college student search and enrollment solution that works throughout the enrollment journey
Do you have everything you need to meet your enrollment goals?
Analytical modeling that delivers strategic insights
Engaging search campaigns
Effective outreach for inquiries and applications
The optimal mix of channels
Powerful pushes to increase yield
RNL Student Search to Enrollment provides all of those critical elements to engage and enroll the students you want—plus the deep experience of the most trusted enrollment experts in higher education. It's the most complete solution for enrollment, from the moment you launch your search campaign until you bring a class that meets your goals.
4 reasons why RNL Student Search to Enrollment
is a complete enrollment solution
COMPREHENSIVE

Engage and convert students at every stage of the enrollment journey.
Search campaigns for sophomores, juniors, and seniors
Inquiry management
Application cultivation
Yield campaigns
Parent engagement campaigns
STRATEGIC

Make the right decisions with insightful data and expert enrollment partners.
Data-informed recommendations from RNL experts who have worked with thousands of institutions
Detailed dashboards that deliver actionable insights
ANALYTICAL

Know where to focus your team, time, and resources with analytics that keep up with the student's enrollment journey.
Predictive analytics from search through enrollment
Affordability analytics to engage families on cost and financial aid more quickly
COMPELLING

Capture the attention of students with award-winning omnichannel communications that stand out from the crowd.
RNL's creative team has won more than 80 higher education advertising awards in recent years.
Online student communities connect prospective students and build excitement about enrolling at your institution.
Boost conversion at every stage by taking a complete approach to enrollment
Using RNL Student Search to Enrollment with advanced parent engagement and online student communities lifts response and conversion throughout the enrollment process.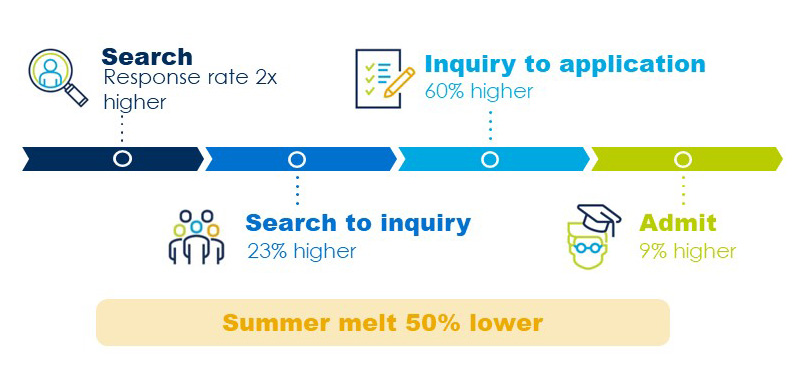 Ask for a Complimentary Consultation
Find out how you can engage students and parents at every stage of the funnel. Ask for a guided walkthrough of RNL Student Search and Engagement.
Request Now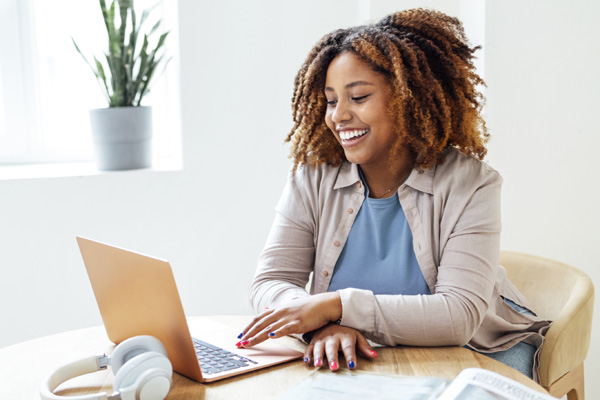 Engage students with the optimal mix of channels
and communications that make them want to connect
RNL E-Expectations research shows that students use a variety of digital and traditional channels when communicating with colleges and universities. That's why we have optimized our communication channels and strategies to align with those expectations, including:
Digital advertising that engages students on the sites and social media channels they use every day.
Email campaigns that build awareness and drive calls to action.
Calling campaigns that create engaging interactions with students and move them closer to enrollment.
Vibrant mailing campaigns that create exciting "mailbox moments" and make students want to learn more.
Student communities where prospective students build strong connections with each other.
Works with College Board Connections so you can stay ahead of changes to data privacy
RNL Student Search to Enrollment campaigns can incorporate Connections from The College Board. This service allows prospective students to opt-in to receive information only from colleges of their choosing—a shift due to data privacy legislation. This adds an additional channel to strengthen your pool along with traditional and digital methods.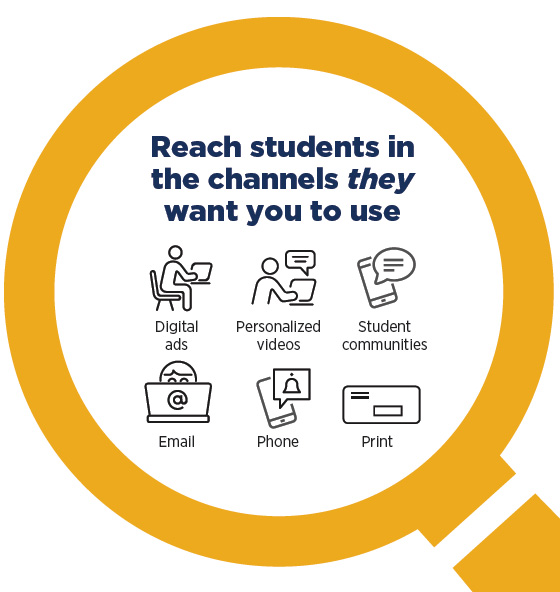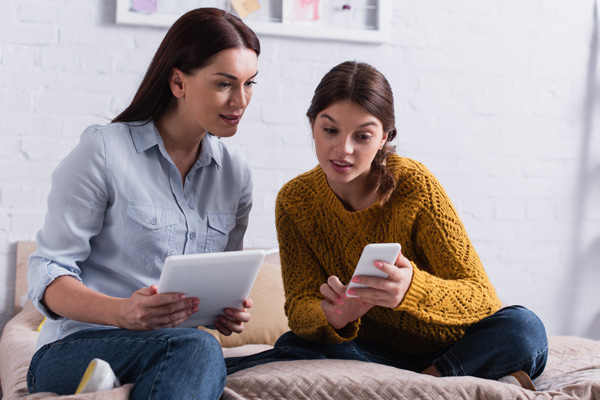 Harness the enrollment power of parents
RNL Student Search to Enrollment features Parent Engagement powered by CampusESP. By engaging parents regularly on the channels they use every day, you can increase engagement, conversion, and enrollment with students.
Find everything to drive inquiries, applications, and enrollment
COMPREHENSIVE ENGAGEMENT AT EVERY STAGE

Sophomore, Junior, and Senior Search Campaigns to strategically fill your funnel with campaigns from our award-winning team.
Comprehensive Inquiry Management with qualification, analytics and modeling, and communications that keep students excited.
Application Cultivation that focuses your efforts with data-informed insights and drives applications with omnichannel outreach.
Yield Marketing with admit qualification, analytics, and communications to get students across the enrollment finish line.
MORE WAYS TO FOCUS, ENGAGE, AND ENROLL
Parent Engagement that turns the biggest enrollment influencers into champions for your institution.
Online Student Communities to engage students with other prospective students as well as your campus community.
Digital Experiences that make your campus come alive on any screen through virtual viewbooks, interactive tours, and digital events.
Actionable Analytics and Dashboards that inform strategies, messaging, and creative while also helping your team focus on the opportunities that will have the best ROI.
Expert Guidance from RNL enrollment professionals who have served as enrollment managers and have cultivated insights from thousands of campuses.
Insights and research from RNL