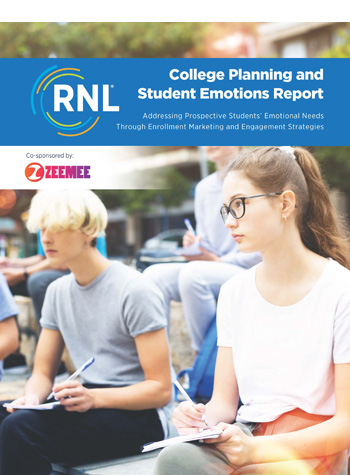 Find out what 10,000 high school students told us about how stress and anxiety impact the college search process
After years of pandemic, lockdowns, remote learning, and anxiety, it is no surprise that high school students are feeling stressed. But how does that stress affect them as they search for colleges?
To answer that, RNL and ZeeMee went straight to the source and polled high school seniors about the stress, anxiety, and worry they felt. The College Planning and Student Emotions Report details their answers and should be enough to make us reconsider how we communicate with them and what we communicate during the college planning and enrollment process. Read our findings to learn:
How many high school seniors say they are dealing with stress and anxiety.
How student emotions change over 12th grade.
The top sources of stress, anxiety, and worry about college planning.
What students are most excited about when it comes to college.
Best practices you can follow to communicate with students and make them feel confident about attending college.
Complete the form above to download your copy now.