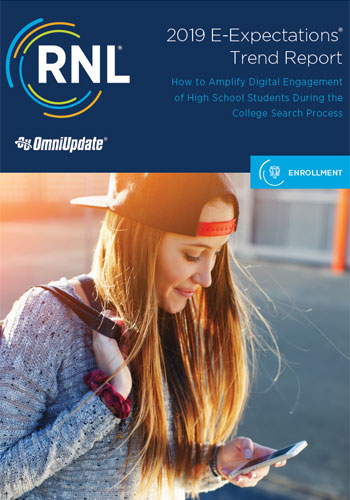 Discover how to amplify digital engagement with college-bound high school students
What are the right solutions and strategies to maximize engagement with college-bound high school students? The 2019 E-Expectations® Trend Report looks at data from a national survey of high school seniors, juniors, and sophomores to identify their preferences and answer key questions such as:
What search terms do students use when looking for colleges online?
How do teens feel about artificial intelligence (AI) on websites, such as automated chats? Do teens conduct voice-activated online search—and how?
What are teens' attitudes about images and videos on college websites? What are the preferred methods of communication for sophomores, juniors, and seniors?
How involved do parents continue to be in the college search process?
Complete the form above to receive your free copy of this 28-page report.
E-Expectations is an annual research project conducted by RNL and OmniUpdate.