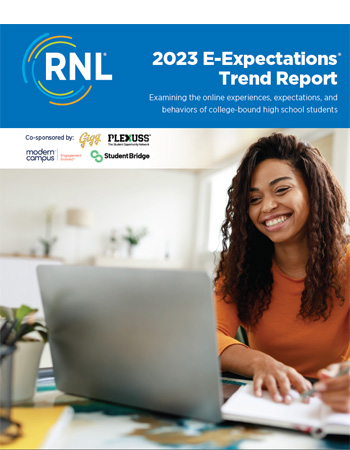 Explore 37 findings on the online experiences, expectations, and behaviors of college-bound high school students
For today's college-bound high school students, the experiences of the pandemic, lockdowns, virtual classes, and economic and social disruptions have had tremendous—and possibly lasting—impacts on them. Have those experiences changed how they search for colleges to attend?
The 2023 E-Expectations Trend Report examines the current online behaviors and experiences of students during their college searches. This comprehensive report features 37 findings based on a survey of nearly 2,000 students from 10th to 12th grade. With the college search process now beginning early in high school for many students, this 2023 report breaks down many of the findings by grade level, showing how student behavior changes as they approach graduation. Download the report now to explore key topics such as:
The resources students use the most and find most helpful when researching institutions.
Which channels students prefer to use to learn about and engage with institutions.
How social media usage has changed in the era of Instagram and TikTok.
What students find valuable on college websites and the five website experiences that frustrate them the most.
How many students will click on digital ads and the actions they take after clicking.
How many students find video content helpful and if they check video length before watching.
The number of students who make virtual tours and virtual reality videos part of their search process.
Why personalization is key to engaging most prospective students.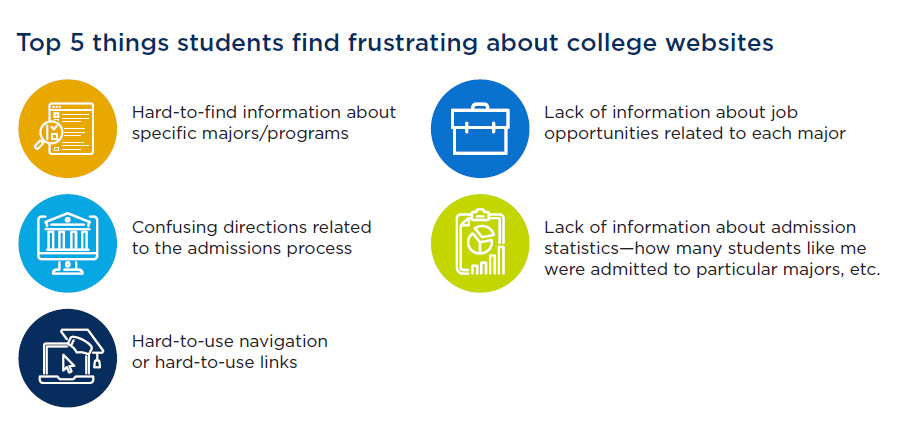 This report was co-sponsored by Gigg, Modern Campus, PLEXUSS, and StudentBridge. Complete the form above to download your copy now.