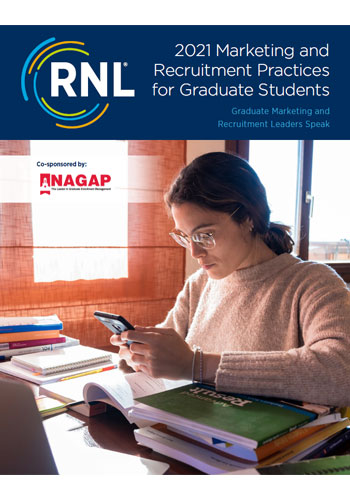 Find out which graduate student recruitment practices are used the most and rated the most effective by enrollment managers
Produced by RNL and NAGAP
Graduate student enrollment has become increasingly important for universities. At the same time, competition for graduate students has increased, and the way those students search for programs of study has changed dramatically in the digital era. How can your program adapt and reach its graduate enrollment goals?
Read our 24-page graduate student recruitment report to see which marketing and recruitment practices graduate enrollment managers use the most and find the most effective. Based on a survey of campus professionals, this report contains 26 findings on key topics in graduate student recruitment and marketing, including:
Graduate-level marketing and recruitment planning
Budget amounts and allocations for graduate student recruitment
Most used and effective marketing channels
Typical response timing to inquiries and applications
Frequency of communications and channels used
Most offered types of programs and formats offered
Offices responsible for marketing, recruitment, and cultivation
These findings come from a survey of more than 90 public and private institutions by RNL and NAGAP (The Association for Graduate Enrollment Management).
Complete the form above to receive your free copy.