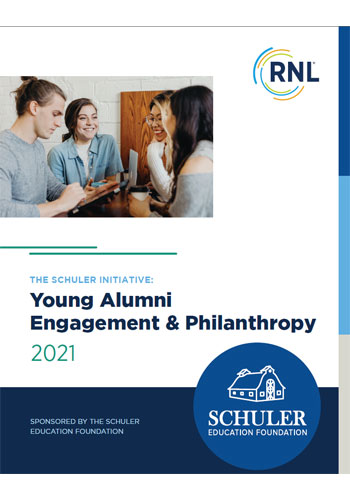 Learn what motivates young alumni to give back to their institutions

Download this report based on a survey of 7,000 young alumni conducted by the Schuler Education Foundation and RNL

Over the last decade, more than two-thirds of colleges and universities have reported a decline in their alumni giving percentage. Concerned by this trend—particularly among recent graduates—and its impact on the longer-term financial stability of higher education institutions, the Schuler Education Foundation launched the Schuler Young Alumni Engagement Initiative in 2018.
Partnering with five liberal arts colleges and RNL, this initiative was launched as study to better understand young alumni: their attitudes toward philanthropy, their philanthropic behavior, and their attitudes toward giving to their institutions. The 2021 Young Alumni Engagement and Philanthropy Report represents the culmination of that research and offers insights into how institutions can better engage their young alumni. Read the report to learn:
How many young alumni are philanthropic and give regularly.
Which factors will make alumni four times more likely to give to their alma maters.
How did the pandemic affect young alumni philanthropy?
Which alumni populations are more likely to give back.
Watch this discussion of young alumni philanthropy with Jason Patenaude of the Schuler Education Foundation
.
Complete the form above to receive your copy.
This report was sponsored by the Schuler Education Foundation and done in partnership five colleges: Bates, Carleton, Middlebury, Wellesley, and Williams.