Assess the priorities of campus administrators, staff,
and faculty with their perceptions of the student experience.
Keep your retention initiatives on track by using the Institutional Priorities Survey, the parallel to the Student Satisfaction Inventory™ for faculty, administration, and staff.
Using the two surveys simultaneously reveals areas of agreement and disagreement between students and campus personnel, so you can:
Confirm further the accuracy of your students' perceptions
Identify areas for new initiatives that will be well-received campuswide (see illustration)
Gain an understanding of your campus climate from a faculty/staff perspective
By knowing which issues everyone agrees are important, you'll be prepared to implement programs that are well-received, and you'll learn when advance work is necessary to bring particular campus audiences on board with the rest.
Check prices and orderReview samples of the Institutional Priorities Survey
National Satisfaction and Priorities Report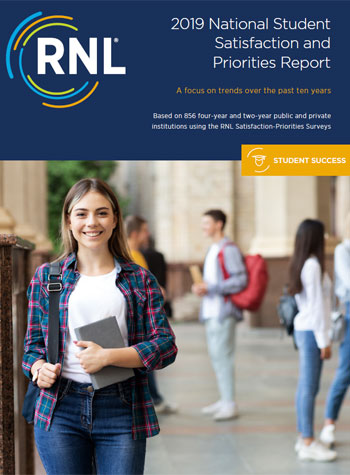 Find data and strategies to strengthen the student experience. This report includes data from 560,000 students at more than 850 institutions, providing insights into their views on academic quality, the value of college, the importance of being at their "first-choice" institution, and more.
Implementation and summaries
Learn how to administer the Institutional Priorities Survey by reading these implementation guidelines. After you've used the survey, contact us to request an on-site executive summary, an extensive interpretation of your data by our assessment consultants.
Read Implementation Guidelines
Compare perceptions of parents
Learn about the Parent Satisfaction Inventory™, another survey from Ruffalo Noel Levitz, that allows you to compare the perceptions of students and parents.
Learn More
Additional Solutions for Student Success
RNL Student Success™
Discover the most comprehensive way to nurture and develop successful students from pre-enrollment through graduation.
RNL Student Retention Predictor™
Identify student retention risk factors through advanced analytics.
RNL Retention Management System Plus™
Increase retention and completion with these early-alert and motivational assessments.