INFOGRAPHICS
Sharing the data from your Satisfaction-Priorities  is an important part of the survey process. It is essential that your top leadership, faculty, administration, staff members and even your students know the results from the survey.
These infographics can be used to communicate a high level of information regarding:
why student satisfaction assessments are important
how the strengths and challenges are determined
your top institutional strengths
your key institutional challenges (which are priorities for improvement)
what you plan to do with the results
student perceptions on institutional choice
what factors influenced their decision to attend your institution
your bottom line indicators of summary satisfaction and the likelihood to re-enroll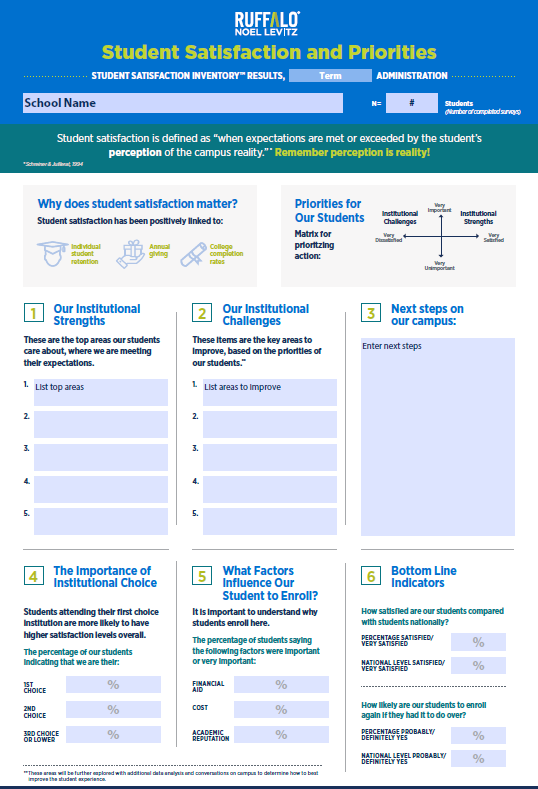 Download the appropriate Infographic/Powerpoint for the survey versions
you administer on campus
Instructions to complete the Infographic/PowerPoint
Suggestions on where to share these infographics
Distribute at:
Senior leadership meetings
Faculty sessions
Departmental meetings
Staff gatherings
Student government sessions
Alumni communications
Post in high traffic areas:
Websites
Student union
Restrooms
Lounges
Library
The results from your satisfaction assessments are also important to include in your strategic planning efforts, as part of your accreditation documentation, to inform your retention/student success activities and to identify institutional strengths for recruitment messaging.  We encourage you to be intentional in sharing your results with all of the right people on campus to benefit these various areas.
ADDITIONAL SATISFACTION-PRIORITIES SURVEYS RESOURCES