student success
The Pandemic's Impact on College Student Satisfaction
The student experience on most college campuses has certainly changed over the past three years as a result of the global pandemic, which lead us to wondering how student expectations and satisfaction levels may have shifted over that same period.
This year's National Student Satisfaction and Priorities Report compares the satisfaction levels and the importance scores for students during the pre-pandemic academic year of 2018-2019 with the most recent academic year of 2020-2021.The report examines student perceptions at four-year private institutions, four-year publics, and community colleges as well as data for adult students and online learners.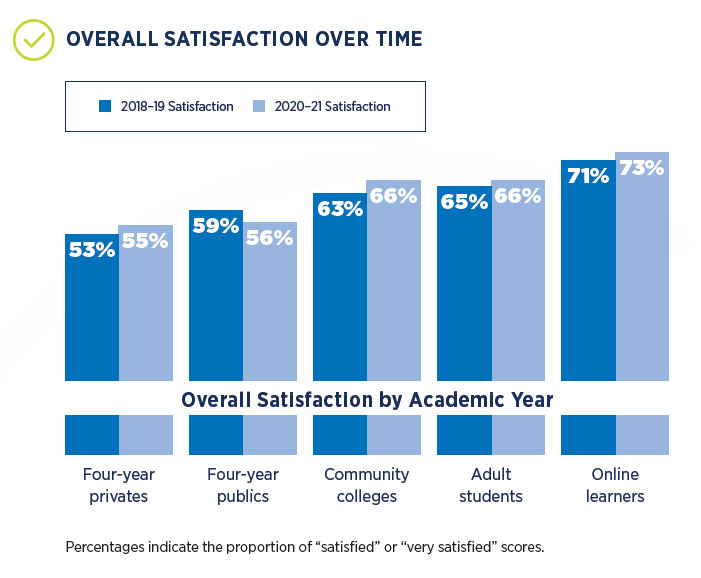 As you can see in the chart above, one-half to nearly three-quarters of college students reported that they were satisfied with their experience overall at the institution they were attending in the academic year 2020-2021.The overall satisfaction levels increased slightly in every case except at four-year public institutions.
I was surprised that students in the most recent academic year indicated higher satisfaction than in 2018-2019.This could reflect students' and institutional resiliency in adjusting to the new normal, or it might indicate that students who were not willing to adjust to safety measures or to online and hybrid learning options did not stay enrolled for the 2020-2021 academic year.
A closer look at college student satisfaction shifts
The full report takes a look at individual items that reflect the student perceptions over the two time periods when it comes to the quality of instruction, tuition being worthwhile, adequate financial aid availability, and the sense that the campus is safe and secure.
Of particular note were the perceptions of the ability to register for classes with few conflicts, which is often an area of high importance to students in order to get the classes they need when they need them to graduate on time.This item saw satisfaction increases in all five of the data sets.Based on these results, it appears that the addition of online course offerings has provided students with more opportunities to be satisfied with accessing classes with fewer conflicts.Institutions will want to be aware of how they are addressing this issues in the years ahead as campuses transition back to face-to-face options.Are there opportunities to continue to offer online or hybrid options for high-demand courses that may not have enough physical space in a classroom?
Satisfaction with parking in a pandemic
We know that parking is typically an area where students are very dissatisfied but it is not typically as important to them as compared with instruction, advising, registration and the overall sense of being secure on campus.I encourage the campuses I work with to stay focused on the high priority areas to their students and to not get distracted with students who are critical of parking availability, unless it is commuter campus that truly doesn't have enough parking to accommodate students.So because it is not usually a high priority area, the parking item is not included in the 2021 National Student Satisfaction and Priorities Report, but I thought you might be interested to see the effect of the pandemic and the shift to online learning with fewer students physically on campus, on student parking perceptions between 2018-2019 and 2020-2021.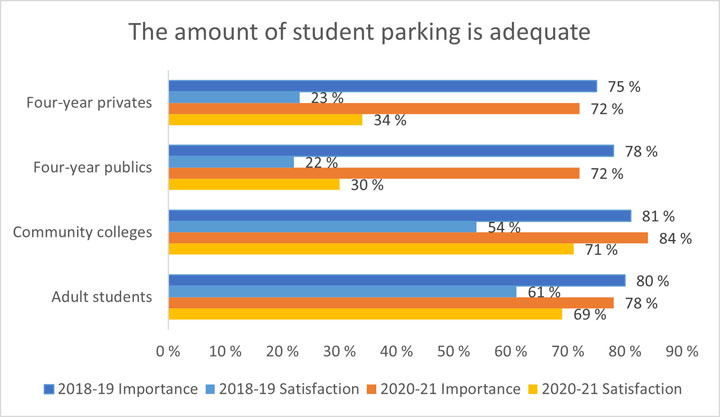 Student satisfaction levels for parking increased in all four data sets between the two years and the importance scores declined except at community colleges.If this doesn't reflect what's different for the student experience since the pandemic, I don't know what does!
I invite you to download the full 2021 National Student Satisfaction and Priorities Report to see the satisfaction shifts on key items across institution types along with data points that are of specific interest in each of the five student populations.The report also reflects demographic shifts between the two academic years and how various factors in the decision to enroll have been affected by the pandemic.
If it has been a while since you have gathered student feedback data on campus, I encourage you to consider administering a satisfaction survey this year.As budgets tighten and the student experience continues to evolve in the current environment, assessing student satisfaction will remain a critical data point for institutions to gather.Learn more about the RNL Satisfaction-Priorities Surveys for traditional students, adult undergraduate and graduate students, and online learners. And please feel free to contact me with any questions.
Read the 2021 National Student Satisfaction and Priorities Report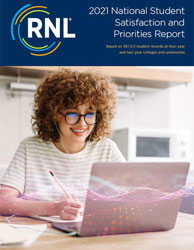 How did the pandemic affect student satisfaction? How have student priorities shifted in the last two years.
Read our latest student satisfaction report to find out. The 2021 report looks at results from 400,000 student records for students at four-year and two-year institutions as well as adult students and online learners.
---