graduate & online enrollment
RNLNC Graduate and Online Track Gains Traction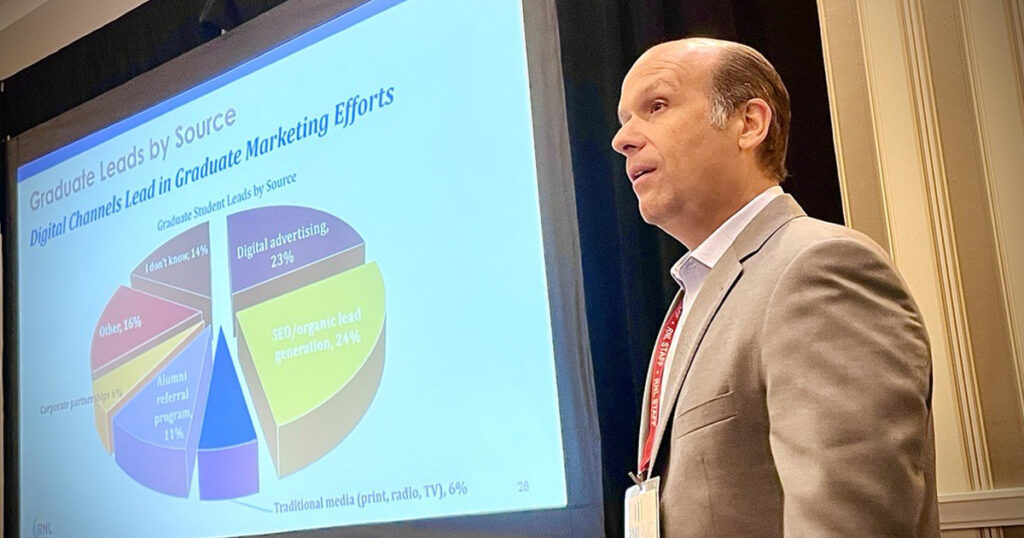 Over the 8 years that I have led the planning of the RNL National Conference, I've been proud of a great many things that we have done to provide experiences in which our attendees can learn the latest techniques and tactics and network with old friends and new colleagues. Among those that I am most pleased with is the creation of a full-scale track of sessions designed to help institutions advance their expertise in serving online and graduate students.
As institutions have increasingly seen the importance of graduate and online students in their route to enrollment growth, so too has RNL seen the importance of ensuring that we can provide help along the way. This is why the 2022 conference offered no less than 30 sessions focused on graduate and online students, with Phil Regier at its centerpiece.
Dr. Phil Regier is University Dean for Educational Initiatives and CEO of EdPlus at Arizona State University. In this session (which will be the focus of a future blog), Dr. Regier spoke of a career-long crusade to ensure that students have access to high-quality online education. During his time at Arizona State, online enrollment has grown from 400 students to 78,000 students. He spent a good deal of this time talking about how Arizona State laid out a growth strategy that never lost sight of quality educational experiences offered online.
Given that I am writing within days of the event, the evaluations have not been tabulated yet, but I asked colleagues to describe what they were hearing among our attendees. Here's what they said:
---
"Long before I attended the conference as a staff member, I attended as an institutional leader. It was SO interesting seeing things from the other side. RNL's national conference has always provided a unique and energizing convergence of best practice, new ideas and fellowship with leaders in higher education. After so much time away, it was wonderful to hug old friends, meet new colleagues and discuss how we will move forward in this new world together."
Dani Rollins, Vice President, Graduate and Online Partnerships, and past Assistant Vice President for Enrollment Planning and Recruitment at University of Arizona
---
"In the conversations I had and the sessions I attended it was clear that graduate and online enrollment managers are feeling the pressure now more than ever before to help make up for lost revenue (or expected lost revenue) on the undergraduate side. Participants at this year's RNL national conference walked away with actionable takeaways to address these pressures. They also had the opportunity to connect with colleagues across the nation who are also facing the same pressures at their institutions. There was a palpable sense that they were walking away with the tools and information needed to take immediate action to address these needs amid times of change and uncertainty."
Reena Lichtenfeld, Executive Consultant, RNL and past Assistant Dean for Enrollment at Vanderbilt University's Peabody College of Education
---
"I heard from so many people that the conversations between schools in the sessions provided so much value-add to the conference. Being able to take in the presentation content – then hearing how it's affecting schools of all different sizes and locations – made for such a great experience. The sessions were relevant and timely – but the sessions allowing for q and a's or time to chat made it all the better."
Bob Stewart, Vice President, Graduate and Online Solutions and past Senior Vice President of Enrollment at Jacksonville University
---
"I had heard that the content and connections made are what make the RNL National Conference an event higher ed professionals look forward to attending every year, so I enjoyed the opportunity to see how people experienced everything first-hand. Conversations often began in the hallways as teams read through their long list of session options, sometimes dividing and conquering so that they could gather as much information as possible and then come back together to share what they learned. Inevitably, discussions over lunch or on breaks with their team or new friends facilitated a deeper understanding of the material presented. It was amazing to witness such a wide variety of professional growth!"
Amy Jauman, Director of University Partnerships and past Associate Professor at Saint Mary's University of Minnesota
---
"Attendees were hungry to learn and come away from the conference with strategies and tactics that would enhance their efforts to grow enrollment after two years of not being able to personally engage with and discuss key issues and topics in the grad and online space. It was an exhilarating experience to hear the enthusiasm of attendees networking and learning from each other."
Charles Ramos, Vice President, Graduate and Online Partnerships
Join us for the 2023 RNL National Conference in Nashville, TN
Hear what's working in enrollment and student success for undergraduate students, graduate students, online learners, and more.
Choose from 120+ sessions.
Network with 1,000+ higher ed professionals.
Return to campus with the strategies and inspiration to reach your goals.
---