Align your institution with its environment
and identify high-impact strategies
Is your campus prepared to meet the changing academic demands, employment needs, and the increasing diversity of learners in the coming years? Does your campus take a reactionary approach to the ups and downs of the higher education market, instead of having a long-term plan to anticipate changes?
Strategic enrollment planning from Ruffalo Noel Levitz provides a systematic approach to achieving ongoing stability, ensuring that you can meet the educational, financial, and material needs of your students and your institution.
What is strategic enrollment planning?
Strategic enrollment planning is more than a long-term recruitment or retention plan. It is a data-informed process that aligns an institution's fiscal, academic, co-curricular, and enrollment resources with its changing environment to accomplish the institution's mission and ensure the institution's long-term enrollment success and fiscal health.
Watch the video to hear Dr. Lew Sanborne of RNL discuss how strategic enrollment planning benefits campuses.
How does strategic enrollment planning benefit your institution?
Strategic enrollment planning benefits your campus in many ways:
Fosters long-term enrollment and fiscal health
Provides realistic, quantifiable goals for student recruitment, student success, and the market position of your campus
Delivers clearly defined, cost-effective results by using a return-on-investment and action-item approach
Aligns your institution's mission and its current state with the changing market environment
Strategic enrollment planning culminates with a finely tuned, data-informed, five-year strategic enrollment plan that addresses pressing challenges such as:
Adapting recruitment and retention strategies to rapid market changes
Responding to changing demographics and supporting diversity
Aligning academic and co-curricular trends with institutional capacity
Preparing graduates for changing demands of the modern economy and workforce
Responding to increasing calls for accountability
Managing student and campus revenue needs as costs outpace federal and state support for higher education
Maximizing net tuition strategies
Ask for a free strategic enrollment planning consultation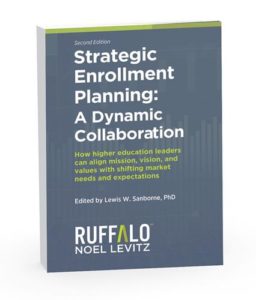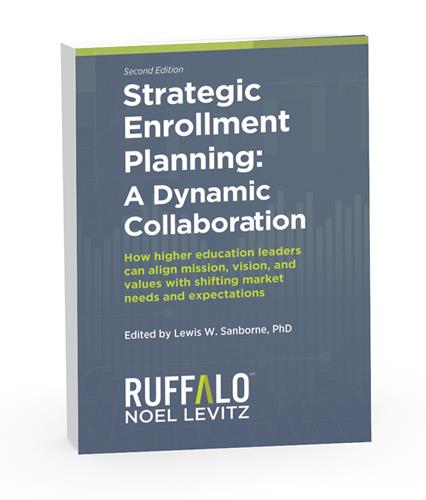 We wrote the book on Strategic Enrollment Planning