enrollment
The Summer of Uncertainty: Research on Parents After COVID-19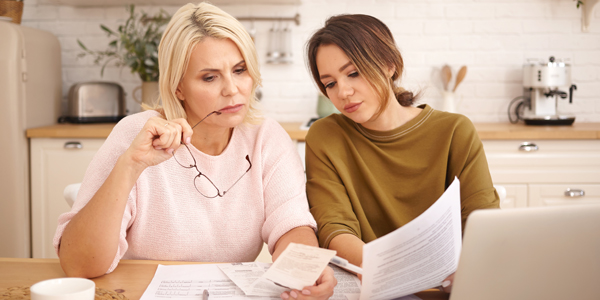 This blog contains results from a poll of nearly 4,000 parents whose 2020 and 2021 graduates are choosing colleges. The research was conducted by RNL, CampusESP, Cappex, and NAIA.
This is the time of year when high school seniors post their college decisions on social media, followed by their peers' excited comments and cheers. It's also the time for high school graduations, last choir concerts, last soccer championships, and prom dances.
Not this year. The class of 2020 will go down in history as the class that had to go without any of these rites of passage, or at least not the way we traditionally have celebrated them.
Seniors are not alone. High school juniors also missed out. They lost spring competitions, spring and probably summer athletic and showcases, and other recruiting events they have been waiting for. Their standardized tests were canceled. These juniors will still walk through graduation in May of 2021, but the COVID-19 pandemic will heavily influence their college planning and decision making.
RNL set out to ask parents of high school seniors and juniors about how COVID-19 is changing their outlook on college planning. We wanted to know: What are they thinking? What are they planning? And most importantly, what are they concerned about? Over 4,000 parents responded.
What over 4,000 parents told us about the college decision process amidst COVID-19
There is no doubt that COVID-19 has changed parents' perspectives. Some key things we heard from the parents of seniors:
Three-quarters of parents said the pandemic had personally or financially impacted them, and just over one-third of senior parents (34 percent) responded that the situation had changed their student's college decision.
Parents expressed significant levels of concern for their ability to pay for college, the health of their children, a college's ability to handle emergencies, and safety generally. Nearly all the parents responded that paying for their children's education will be difficult.
Over half of parents (55 percent) were more likely to want their children to enroll closer to home, and more than one-third (37 percent) said they were more likely to want their children to live at home and commute.
Right now, colleges are focused on high school seniors in order to make their class. As the pandemic continues, there is an increasing number of implications for high school juniors and their parents:
More than half of the parents of juniors are likely to want their children to enroll at a college that's closer to home.
Nearly 60 percent are worried about their ability to pay for college expenses
Almost two-thirds (63 percent) are concerned about the inability to make planned campus visits.
Nearly half of the junior parents and 60 percent of senior parents said they did not attend virtual events because the institution did not invite them. This is a miss for strategic enrollment efforts and needs to be corrected quickly.
Hear the podcast
We engaged a group of counselors, recruiters, and enrollment experts to unpack the results. Listen to the podcast to hear how they're working with parents today to help with the uncertainty.
Key strategies for engaging students and parents to meet your enrollment goals
Students' college planning is not going to wait, and institutions must be prepared to meet the evolving needs of students and their parents as they navigate that process amidst this health crisis.
Here are some key strategies on engaging parents and students for the incoming class of 2020 and 2021, based on the survey results.
Communicate directly with parents. If you do not have a multichannel parent communication plan, develop one now. Messaging should be honest and candid but optimistic and forward-looking.
Engage the parents of current students. Ask parents of current students to assist you in communication campaigns. Authentic communication from a trusted source, like a current parent, helps to reaffirm your relationship and alleviate concerns, especially in difficult times.
Develop your virtual event strategy.
Host parent-specific sessions virtual events. Develop content specifically for parents. Make sure your virtual campus visit experience considers and addresses the needs of parents as well as their students. Be specific in your invitation materials and use inclusive language during the events to make parents feel welcome and to lessen students' anxiety that their parents are interlopers.
Communicate a clear message about affordability. Parents of high school juniors and seniors are equally concerned about college costs. Don't wait until the senior year to begin conversations with parents about scholarships and financial aid. Start those discussions now.
Communication is key to meet your enrollment goals. Even if you don't have all the answers.
In a time of uncertainty, direct and authentic communication is key. You don't need to have all the answers about how this fall and the academic year will look in order to reach out, because we all know the situation is changing daily. Institutions that communicate now and develop multichannel plans to reach out to students and parents over the coming year will be the winners on their strategic enrollment goals. The time is now to amplify communication, reassure, and welcome students and their families.
Download the research summary, and learn more about how you can engage parents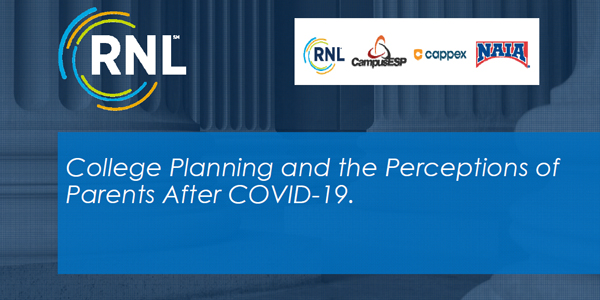 How can you take these insights and increase engagement with parents to improve yield in 2020 and engage next year's class?
RNL's digital engagement solutions provide a multitude of ways to engage students and parents on the devices they use each day.
Our RNL enrollment experts can discuss how you can engage students, parents, and other influencers such as high school counselors. Schedule a time to talk and we can discuss what you want to accomplish.
---