Read how COVID-19 has changed how parents are approaching college enrollment with their children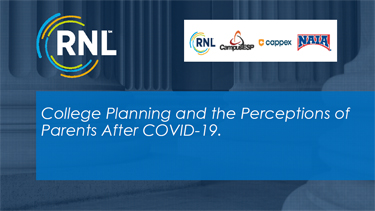 This research summary contains research from RNL and our partners CampusESP, Cappex, and NAIA.
Download this research summary of a survey of parents of high school students. This study of more than 3,800 parents touches on a number of key topics related to the impact of COVID-19, including:
How the pandemic has altered parents' thinking about where they want their children to attend college or delay enrollment altogether.
The impact on their ability to pay for college.
Attitudes toward virtual events.
How the pandemic has disrupted high school student athletes looking to compete at the collegiate level.
Complete the form above to receive your free copy.