enrollment
College Financing: Do Families Know All Their Options?
Financing has long been a top factor for choosing a college, and as the cost of college has escalated (along with the financial need of many families), how a student and their family can pay for college often determines if they choose that college.
However, do families know all of their options for college financing? And how do they feel about those options? What are their concerns about issues such as loans, and do they feel the potential investment is worth it to obtain a college degree?
RNL and Ardeo Education Solutions polled more than 1,200 families of admitted students to answer these and other questions related to college financing. The results have just been published in the 2021 Admitted Student Family Report, and the report dives into key topics such as:
The importance of financial aid and scholarships
Concerns about the cost of college
Attitudes toward borrowing and the likelihood to do so
Knowledge and opinions about Loan Repayment Assistance Programs (LRAPs)
The importance of financial aid and cost based to families
The vast majority of respondents (88 percent) said that the financial aid package was important in deciding whether to attend an institution. Furthermore, nearly all had some concern about their ability to pay for college.

Concerns with paying for college did tend to become lower as family income increased, but it's noteworthy that more than half of families with less than $150,000 in annual family income had at least moderate concerns with paying for college.

Concerns about taking out loans
While loans do provide students and families with an extra financial resource to pay for college, the majority said they had concerns about borrowing.

This result shows that three-quarters of families of matriculated students (those who enrolled at the institution that surveyed them) had concerns about loans, while slightly more than half of those who did not matriculate at the institution surveying them also had concerns about using loans.
For those families that were concerned, here were their top concerns about their children borrowing student loans.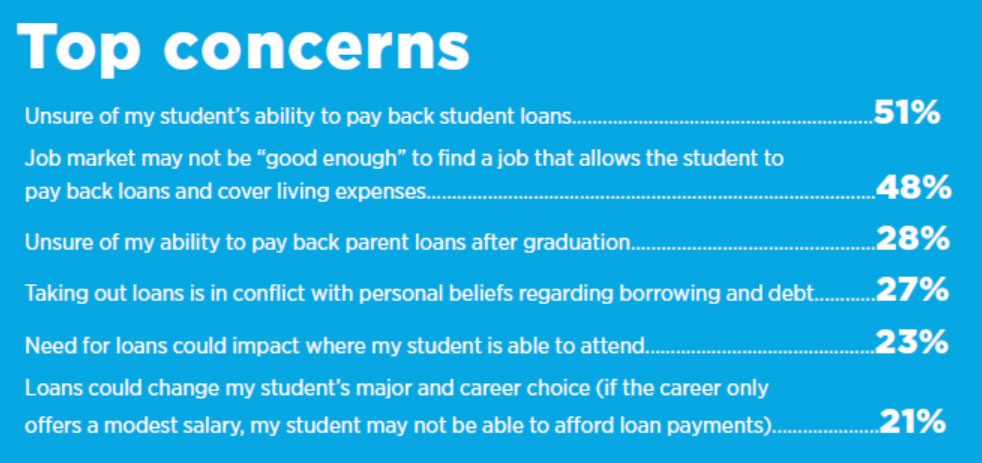 Alleviating anxieties about cost early is key for engagement and yield
Given that so many families are concerned about the ability to pay for college, it's extremely important for institutions to address these concerns clearly, completely, and early in the process.
Review your financial aid language on your website and in your communications. Look out for internal or technical jargon that may confuse or even intimidate families. This is especially important for families of first-generation students who will not have experience with the college financing process.
Customize and personalize information on cost so students and families can understand all of their potential aid and financing resources. Customized personalized financial aid videos and net price calculators are excellent ways to inform, engage, and assuage families about paying for college.
Convey information on alumni outcomes (employment, post-graduate placement, etc.) to show the career and lifetime benefits of an education from your institution.
Read all the findings in our 2021 Admitted Student Family Report
Download your free copy of the full report and see all of the findings. And if you'd like to discuss how you can engage students and their families during the enrollment process, reach out to us and we'll set up a time to chat.
Talk with our enrollment experts
Let's talk about how you can find the optimal strategies for digital marketing, inquiry management, financial aid awarding, optimizing yield, and other key actions.
---