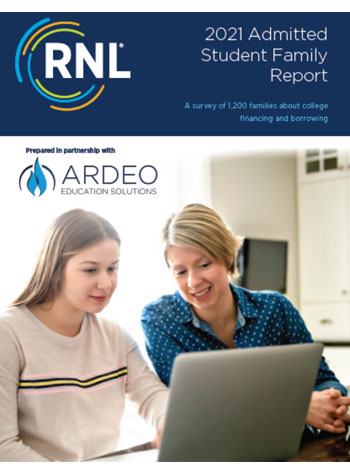 Uncover the concerns and attitudes families of admitted students have about financial aid, borrowing, and more
In an era of escalating higher education costs, students and families need to be aware of all of their options for financing college and how those financing options work. But how knowledgeable are they? What are their attitudes toward financial aid awarding, college costs, and borrowing?
RNL and Ardeo Education Solutions surveyed more than 1,200 families of admitted students to uncover their attitudes, expectations, and concerns on key topics in college cost and financing. Download this full report to learn:
How important financial aid and college cost are to the enrollment decision.
Whether families plan to use student or parent loans to pay for college.
The top concerns parents have about borrowing to pay for college.
The knowledge and importance of loan repayment assistance programs (LRAPs) to the enrollment decision.
The results also have breakdowns by family income, ethnicity, and other key categories.

Complete the form above to download your free copy.