student success
Time management tips for student workers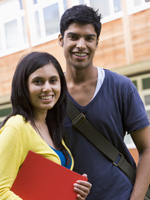 Have you taken time to examine how many of your students are working while taking classes? Research confirms that the majority of incoming students anticipate working.  According to the latest Noel-Levitz data, 77 percent of first-year entering undergraduates planned to work. Watch for our forthcoming 2012 National Freshman Attitudes Report for a breakdown of the data.
A successful on-campus job assignment can be an effective way to engage students in campus life and increase students' sense of identity with the institution. Further, having a job while going to school forces students to be more aware of the value of their time and induces them to strive for greater efficiency.
But between classes, homework, extracurricular activities, friends, family, and work, how do students fit it all in?  Like most of us, they could use a few more hours in every day. And, most students admit that they would benefit from help with time management skills in the form of employment training workshops or coaching in student success skills.
Time management is an important life skill that begins with time monitoring—deciding how to spend (and invest) time. Below are some questions from our Connections NOW online training program to help student workers get focused. We present these in honor of National Student Employment Week, April 9-13.
Questions to ask student workers
1. What areas of your life cause the greatest time management frustrations for you?
a. What are the frustrations?
b. How can you better manage your time to eliminate the frustrations?
2. What are your biggest time wasters?
3. What is the most productive time of day for you?
4. Do you set priorities according to importance or urgency?
5. Do you set deadlines for yourself, or do others set deadlines for you?
6. Do you regularly make a time management plan or schedule?
Helping your student workers embark on a reality check of their time management practices as they come to the end of the semester can help them chart the course for future success.

11 common time wasters
Acknowledging the time wasters we all face and brainstorming ways to deal with them can also be helpful for students and staff alike:
1. Attempting to do too much at once
2. Making unrealistic time estimates
3. Procrastinating
4. Neglecting to plan and organize
5. Failing to listen
6. Being unable to say no
7. Refusing to let others do the job
8. Trying to involve everyone
9. Making snap decisions
10. Blaming others
11. Being fatigued or distracted
In my consulting work with campuses, I often encourage colleges to invest not just in student employment opportunities, but also in teaching time management skills and other effective work habits to student workers, because these skills pay off in so many ways.
Students working in a particular department often develop a feeling of connectedness as they make friends with staff members and fellow student workers and take pride in their inside knowledge of the institution. Capable and trusted staff members who take an interest in students' academic progress and general well-being—but, unlike faculty members, are not involved in evaluating their course work—often become supportive mentors or even surrogate parents for students who work with them. In many cases, these staff can create relationships that nurture ongoing ties to the institution.
Of course, students' future success after graduation is a key reason to invest in student workers' development, too, because effective work habits are at the center of the skills that students will need to be successful after they graduate.  Too often, there is a disconnect between the expectations of employers and the capabilities of new hires, especially in the area of managing time.  Rather than wait for students and their future employers to encounter these frustrations, it makes sense to invest now in teaching time management skills and in developing effective work habits.
We hope your campus will take time to celebrate National Student Employment Week.  It is an excellent time to recognize the importance of the student work experience and the vital roles students play in campus services. And the conversations you have with your student workers may help you and them to become more satisfied with their performance.
If you would like to discuss Noel-Levitz's training programs that help to train student workers to develop effective work habits, please feel free to contact me at 1-866-982-4244 or write to jo-hillman@noellevitz.com.