fundraising
How Giving Days and #GivingTuesday Fuel Your Major Gifts Pipeline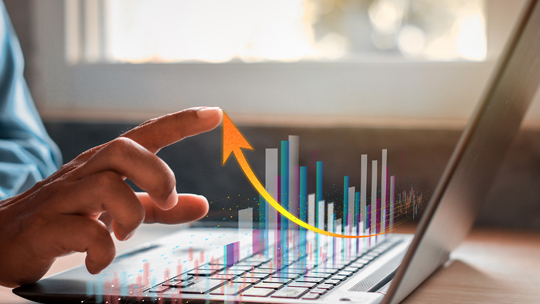 Giving Days are "digital pep rallies" for universities, arts organizations, hospitals, and other nonprofit organizations, providing institutions with opportunities to share impact stories, celebrate shared affinity, and raise funds from their priority projects. A savvy fundraiser will look beyond the short-term returns to embrace the potential impact a one-day giving event can have on building or strengthening a major gift and planned giving pipeline.
With #GivingTuesday fast approaching and giving day season coming down the pike, now is the time to consider how your giving day efforts can serve your institution in the long run.
Use giving day ambassador programs to build awareness and buy from new donors and mega-givers
Building a major gifts pipeline requires significant time, resources, and patience. Acquiring new donors is also one of the most expensive things fundraisers do. Engaging ambassadors on your giving day can help you do both of these expensive things with high return on investment. Giving days offer a tremendous opportunity to engage volunteers to promote your effort. With volunteer-generated social shares, direct outreach to peers from volunteers, and by featuring ambassadors in your appeals, you're creating a social network around giving.
Ambassador programs drive new givers who learn about your effort from their peers, one of their most trusted sources of information. Donors who might be able to step up to a major gift also become more involved and engaged by serving as ambassadors themselves. Investing in a robust ambassador program allows you to coach the messages and images being spread through organic, peer-to-peer social sharing—benefiting your major gift pipeline.
One key feature of RNL Scalefunder is giving day ambassador tools, which allow ambassadors to track the giving they influence through individual tracking links. Whether it's getting snapshot of their own impact or getting competitive with fellow volunteers, ambassador love this system and we've seen it really take off with giving day ambassador programs.
Strengthen mid-level asks with a challenge or match opportunity based on affinity for your giving day
All major donors start somewhere. As RNL consultant Justin Marquart reminds us: "The transformational naming gift you receive 30 years from now will likely come from someone making a $100 gift today." As future major givers get ready to make a big gift, they often stop along the way to make a mid-level gift. Giving day challenge and match gifts are great opportunities for these gifts.
It's important to remember that not all giving day challenges or matches must or should be backed up with six-figure asks. Hosting a number of events throughout the day that are specific to individual departments, sports, Greek organizations, or areas of campus will allow you to engage mid-level donors and those who are not quite ready for a five- or six-figure ask, but still want to get involved. You can even build in "Battle of the Grad Years" challenges to specifically target young alumni and even engage the constituents we refer to as HENRY (High Earner, Not Rich Yet). Engaging this group who is on the rise to wealth can be crucial to their investment down the road as major givers.
Engage corporate partners and key community members with the increased visibility of a giving day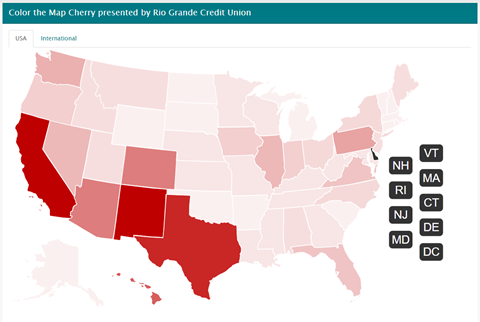 Giving days are an opportunity to engage your entire community. Alumni, faculty/staff, friends, and parents are not the only prospective donors for recruiting matches and challenges during your giving day event. The extreme visibility of a giving day offers unique opportunities for engaging corporate partners. In RNL ScaleFunder data, we see that donors are approximately 30 percent or more likely to give when presented with a matching opportunity. This means that corporate partners have an opportunity to both boost giving, and get some excellent exposure.
You can provide excellent reporting to these partners. All RNL ScaleFunder Giving Day pages are linked to a Google Analytics account, and all partners receive a post-giving day report which outlines the number of unique site visitors, the average amount of time spent on a giving day page, source tracking (social media, email, organic search), and more. These metrics can be used as part of a proposal for prospective corporate sponsors to show potential reach and ROI for the partnership. RNL clients have leveraged these opportunities to ask partners to sponsor a challenge, put forth matching funds, or even sponsor Giving Day elements like the Donor Heat Map or the Donor Wall. Corporate partners can really get behind an effort like "color the map."
Find the perfect platform for your Giving Day
The RNL ScaleFunder Giving Day platform gives you all the tools you need to run your Giving Day, manage your giving ambassadors, and energize your donors.
Don't avoid #GivingTuesday for fear of competition with other causes: jump in
Though it can feel like your message might get lost in the sheer volume of campaigns running on #GivingTuesday, not hosting a campaign is a missed opportunity to engage your major and mid-major donors who are likely involved with other organizations.
Whether you choose to host your #GivingTuesday campaign through the full ScaleFunder Giving Day or on the Crowdfunding platform, this organized giving event offers an opportunity to share institutional priorities which might otherwise not be on the radar of potential major giving donors. Additionally, no matter how robust your marketing plan may be, community-wide giving events like #GivingTuesday will help things "click" for current or prospective major giving donors when they have the chance to see your organization's need AND the potential impact of their support of your mission.
So, we recommend being present and offering giving opportunities including matches and challenges on #GivingTuesday, even if your primary giving day will be on another key day for your organization later in the fiscal year. In fact, a concentrated #GivingTuesday campaign might be a great way to spotlight a key major donor who offers a challenge for a specific area of need.
On giving days, the best major giving prospect is the one you already know about
While acquiring new donors is one of the most significant challenges faced by nonprofits, retaining current donors you have worked hard to engage is also a big challenge, given competition with other charities and a tough economy. Don't underestimate your giving day as a research tool to cultivate major donors. How does that work? Gift designation on giving days can allow you to determine affinity and interest concerned for prospects who may have been sitting on gift officers' lists for months with no visit. By letting donors choose where to give on giving day, you'll quickly learn where their passion lies.
That's when stewardship comes in. Savvy fundraisers and prospect development teams recognize the opportunity to deliver a personal thank you call, or even the potential to set up a future visit from assigned officer. Sometimes, a "thank you" is the quickest way in the door for a visit.
Let your future major givers celebrate their gifts, and compete with peers on giving day
During my time at Culver-Stockton College, we had great success with running Greek, athletic, and class year-specific competitions using leaderboards. This visibility and competition encouraged some donors to make stretch gifts and, in a few cases, helped us to uncover greater capacity than wealth screenings showed.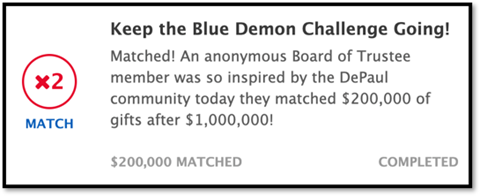 For those donors who appreciate recognition and visibility, a giving day provides the perfect opportunity for active stewardship, when you can thank those donors who match/challenge donors publicly. This has a two-fold return: you are able to thank the donor AND their story might encourage other prospects to think differently about how they give. Active stewardship is easy with the RNL ScaleFunder Giving Day platform:
Host donor or beneficiary testimonial videos as giving day page updates and through the use of our integration with ThankView.
Update the match or challenge page once the individual event has concluded by posting a photo/quote/story highlighting the donor and the impact of their gift.
Build active stewardship into your social media strategy for your giving day
I heard this story from an RNL partner recently: "The donor literally called us day-of because he was so inspired by the stories we were sharing, and he wanted to make an impact."
Giving days are a major donor cultivation engine
We often think of giving days a small donor acquisition effort, and they've definitely been highly successful with that. But fundraisers are now realizing that giving days can be an excellent mid-level and major gift incubator, and provide gift officers with a valuable tool to help encourage greater investment. Key technology, and your strategy for engaging the major gift effort will be key to your success.
If you'd like more information on how to integrate major gift efforts into your special day, reach out and we'll set up a time to talk. We have plenty of examples of how RNL partners have engaged donors of all sizes for giving day investment.
---