Connect with donors through high-impact outreach that gets results
Direct response remains a proven strategy for engaging donors. Mail and email can be powerful tools that generate fundraising results, but they need to be tailored for today's donors.
RNL's Direct Response solutions combine data-driven analytics with award winning creative and targeted outreach so you get the best results possible. When combined with our additional Annual Giving solutions, it adds a strong component to your multichannel fundraising campaigns.
Free white paper on Annual Giving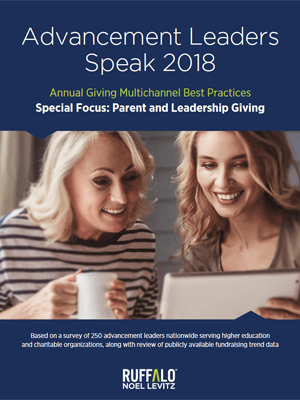 Advancement Leaders Speak Annual Giving Issues and Priorities
What do fundraising leaders say about the state of annual giving? Read their insights, concerns, and recommendations.
Direct Mail

Ruffalo Noel Levitz will work with you to understand your needs, share relevant samples and best practices and help your organization maximize the effectiveness of your direct mail program. We analyze past direct mail trends and determine the most responsive audience and the most effective ask strategy for your direct mail program. Our team works with you to determine the right messaging, sequencing, and timing to support your ask strategy to optimize your donors and dollars.
We pair our strategy and analytics with an award-winning creative team to create mailings that get read and responded to. The result? High-impact direct mail that engages your audience and makes a compelling case to give.
Email
Email is a cost-effective channel for cultivating, soliciting and stewarding your constituents. While email is not always a direct driver of dollars and donors, it has the ability to enhance the success of all other channels. Our email solutions combine strong analytics, strategy, and creative to connect with more donors, including:
Email solicitation with targeted HTML emails
Email research to provide more valid email addresses to contact
E-newsletters that keep alumni informed and engaged with your institution.
Talk to our fundraising strategists about how you can maximize the results of your direct response outreach.
More solutions for annual giving
RNL Personal Journey
Deliver a fundraising message that is more relevant, more timely, and more effective for today's donors.
RNL Intelligent Phonathon
Align the phone channel with today's donor behavior with RNL's modern approach to phonathon.
RNL Digital Dialogue
Amplify digital giving programs, year-end campaigns, events and more with a smarter approach to digital advertising.