Learn how satisfied your adult students are and what's most important to them
The Adult Learner Inventory is an ideal satisfaction assessment for adult students completing undergraduate programs. It is a web-based survey that shows how satisfied your students are, and what's most important to them. This combination helps you pinpoint both your institution's strengths and areas for improvement.
National Satisfaction and Priorities Report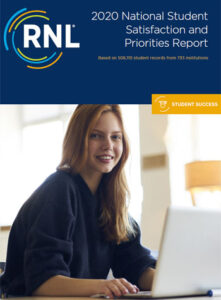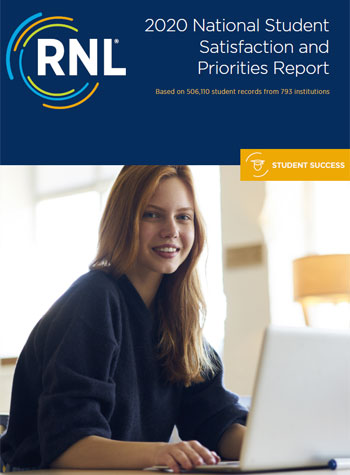 Find data and strategies to strengthen the student experience. This report includes data from 506,000 students at nearly 800 institutions, providing insights into their views on academic quality, the value of college, availability of financial aid, and campus safety.
See samples:
ALI sample reports
Optional report samples
The survey is based on the Principles of Effectiveness for Serving Adult Learners from CAEL (Council for Adult and Experiential Learning). The survey items contribute to the eight scales based on these principles:
Outreach
Life and Career Planning
Financing
Assessment of Learning Outcomes
Teaching-Learning Process
Student Support Systems
Technology
Transitions
As with all the Ruffalo Noel Levitz Satisfaction-Priorities Surveys, you also receive national satisfaction data with the Adult Learner Inventory.
(For graduate students, continuing education students, and evening/weekend learners at other types of institutions, use the Adult Student Priorities Survey instead.)
Part of the ALFI program
The Adult Learner Inventory is one component of CAEL's Adult Learning Focused Institution (ALFI) Coalition. Along with the Institutional Self-Assessment Survey, this inventory helps institutions serve adult students more effectively.
Implementation guidelines
Learn how to administer the Adult Learner Inventory by reading these implementation guidelines.
Additional Solutions for Student Success
RNL Student Success™
Discover the most comprehensive way to nurture and develop successful students from pre-enrollment through graduation.
RNL Student Retention Predictor™
Identify student retention risk factors through advanced analytics.
RNL Retention Management System Plus™
Increase retention and completion with these early-alert and motivational assessments.