Balance your yield rate, awarding, and net revenue
while communicating value to admitted students
Balancing yield is possibly the most challenging objective for enrollment managers and financial aid directors. How can you create and implement the right strategy to meet enrollment goals while managing financial aid awards and institutional needs for net revenue?
RNL Yield and Financial Aid Optimization provides the most complete solution for yielding students and pricing your institution optimally to achieve strategic goals.
Read the 2023 Discounting Report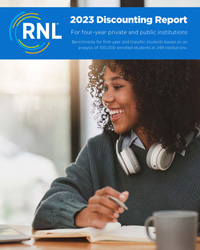 Find 18 sets of financial aid benchmarks including average discount rate, net revenue, yield and melt rates, and other key metrics.
Benchmarks for four-year private and public colleges and universities
Data for first-year students as well as transfer students
OPTIMIZE college yield rates, financial aid awards, and price through industry-leading research and statistical modeling.
CONTROL your discount rate and price level by strategically aligning students' price sensitivity with your market competition and the goals of your institution.
COMMUNICATE value with admitted students using a multichannel yield campaign that includes student surveys to learn who is likely to enroll and who needs more information.
Why do more institutions turn to RNL Yield and Financial Aid Optimization?
75% OF HIGH SCHOOL SENIORS
apply for need-based aid*
50% OF HIGH SCHOOL SENIORS
rule out institutions based on
sticker price alone*
$2 BILLION IN INSTITUTIONAL
FINANCIAL AID
currently optimized under the
guidance of RNL**
See how you can increase yield with RNL Yield and Financial Aid Optimization
6 components to accomplish goals and achieve desired class yield
Operational and Organizational Review
Assessment of operational functions and business processes to assure that best practices are in place to yield the class.
Pricing Study
Research to guide recruitment, marketing, and financial aid strategy by assessing elasticity of demand and perceptions of value, including a competitor study to ensure that your institution is optimally priced.
RNL TrueCost Calculator
Responsive net price calculator gives students an accurate perspective on your affordability long before they consider applying.
RNL Advanced FinAid Solutions
Historical analysis of student enrollment and retention behavior, econometric modeling, revenue optimization/simulation, annual plan development, four-year enrollment and net revenue projection model, tracking reports, Weekly consultations.
Yield Campaign: Email, Direct Mail, and Phone Outreach
Award–winning creative engages students and ensures your brand resonates.
Digital Advertising with RNL Digital Dialogue
Deliver your message to admitted students with targeted ads that reach them on the web, social media, and on their phones, boosting attendance at events and raising enrollment rates.

"We've been able to manage the discount rate consistently from year to year, enabling us to meet our targeted goals without additional financial pressure."
New Ways to Engage Students With RNL Yield and Financial Aid Optimization
RNL Personalized FinAid Video
Provide every student with a personalized video explaining their financial aid offer. The videos are branded for your campus and use your own financial aid data to make the process automated and efficient.
(Optional add-on for RNL Class Optimizer)
AL, RNL's AI chat for enrollment
AL is our trainable AI chat solution for enrollment that can be branded for your campus. See how this conversational AI lets you have intelligent, natural one-on-one conversations with students any time of day or night.
(Included with RNL Class Optimizer)
Additional solutions for optimizing yield
RNL Advanced FinAid Solutions™
Develop a strategic financial aid plan that is aligned with your goals for enrollment and net revenue, while also addressing affordability for students.
RNL Personalized FinAid Video
Engage students and explain their financial aid offers more clearly with personalized videos you can deliver to every student.
RNL TrueCost Calculator™
Communicate aid and affordability quickly with this accurate, fully-customized net price calculator.
RNL Yield Campaign™
Increase conversion of admitted students through email, mail, phone, and digital outreach.