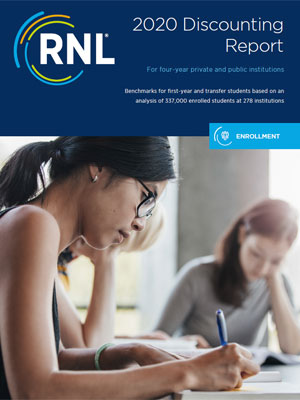 Find financial aid benchmarks on discount rates, net revenue, and other key metrics in our discounting report
The 2020 Discounting Report for Four-Year Private and Public Institutions looks at financial aid benchmarks for first-year and transfer students. These metrics allow you to compare your results to peer institutions and identify opportunities to optimize your financial aid awarding.
See data from an analysis of 337,000 enrolled students at nearly 280 institutions
Inside the report you'll find key benchmarks such as:
Discount rate and net revenue metrics for first-year and transfer students at four-year private and public institutions
Yield and melt rates—the percentage of students who deposit but do not enroll
FAFSA completion rates and other key data points on student need
Comparisons by institution type, student resident status, region, and more
Metrics by athletic participation levels—FBS, FCS, Divisions II and III, and NAIA
Complete the form above to receive your free copy of the 2020 Discounting Report.