Identify which students are most likely to
enroll with this predictive modeling tool
ForecastPlus for Recruitment is a highly advanced predictive modeling tool for enrollment management. Powered by customized, multi-variable analyses, it uses your past enrollment data to predict your future enrollment results.
---
Increase enrollment management precision and efficiency
Proven effective on more than 100 campuses, ForecastPlus reduces uncertainty and duplication from the admissions process.
Increase enrollment yields
Focus your efforts on the prospective students who are more likely to enroll.
Shape enrollments
Rank your best enrollment prospects by geography, gender, ethnicity, field of study, academic standing, or any other characteristic you desire.
Save vital resources
Save money on postage and printing by targeting your communications, and save time and effort by focusing the activities of your admissions staff.

"Predictive modeling allows us to reach those most likely to enroll without communicating to the entire population of prospective students. We were able to eliminate 35,000 of our lowest scoring prospects from our mailing efforts, saving approximately $28,000."
How can you manage your funnel more strategically and identify those students who are most likely to enroll? Ask for a free consultation and demonstration of ForecastPlus. Call 800.876.1117 or contact Ruffalo Noel Levitz today.
Know the score with your student leads
Because every student lead receives a score with ForecastPlus, it is very easy to qualify and grade your leads. A segment may look like this: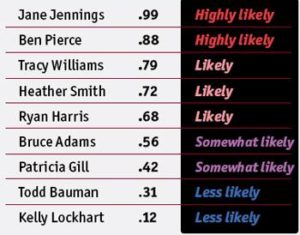 Jane and Ben are highly likely to enroll. Give them your attention and they will likely become students.
Tracy, Heather, and Ryan are also very strong. You definitely want to make communicating with them a priority.
Bruce and Patricia are on the fence. They will need more persuasion and communication.
Todd and Kelly are true long shots. You'll probably want to segment them from your main communication flow.
Receive your own dedicated team
We assign a three-member team to your campus for the life of your ForecastPlus service:
Data integrity analyst
Helps identify data important to the modeling process and assists with running that data through the software.
Statistician
Works with the data integrity analyst to build the model, refine it, and test it for statistical accuracy.
Enrollment consultant
Helps you match the model to your enrollment goals. Your consultant provides phone and email consultation and also makes one on-campus presentation each year.
Score students at the prospect, inquiry, and admit stages
RNL ForecastPlus has several different models available for accurate, timely qualification at each stage of the recruitment process. These models may be used separately, or you can combine them to guide students through the enrollment funnel.
1. Prospect model
Target your purchasing criteria more accurately, rank students on your mailing lists and search tapes, and tailor communications based on a student's likelihood of enrolling. For instance, students receiving low enrollment-probability scores could receive an inexpensive postcard inviting them to request more information. Respondents could join your inquiry pool, saving you the cost of sending more expensive mailings to the entire prospect pool.
2. Inquiry model
Gauge the interest of inquiries quickly and accurately, allowing you to focus more attention on the hottest leads.The inquiry model gives you a big boost in raising enrollment yields. Using the model scores, you can organize the efforts of your admissions staff more efficiently—for instance, scheduling travel or faculty calls to students.
3. Applicant or Admit model
Determine which applicants or admitted students will likely enroll and get a jump-start on receiving deposits.
Additional products for Cultivating Applicants
RNL Student Search and Engagement
RNL Student Search and Engagement is a modern search solution that delivers everything you need to engage students on their mobile devices, turn parents into enrollment champions, and target the right students for your institution.
RNL Application Generation
Nurture and develop your applicant pool by aligning your applicant strategy with your enrollment goals and targeting students who are most likely to apply and enroll.
CRM Solutions for Higher Education
Find expert help implementing, optimizing, and aligning your CRM with your enrollment goals.