student success
Do You Know How Satisfied Your Online Learners Are?
Online learner enrollment has been growing over the past two decades, along with the number of institutions that are offering solely online programs or combinations of online and on-ground options. The move to online learning for traditional campuses has now increased rapidly as a result of the pandemic. Understanding the satisfaction levels of students taking classes in traditional classroom settings has long been an identified priority for higher education, but the understanding that it is also important to gather student feedback for online learning programs and in online learning environments has been growing along with the number of students who are enrolled online.
Gathering student satisfaction data from online learners has its own unique set of challenges. The methods for responding and sharing results with these students who are not physically on campus presents different opportunities. It is the combination of gathering student feedback regularly and being intentional with the next steps that can have the greatest impact on improving student success in online learning programs.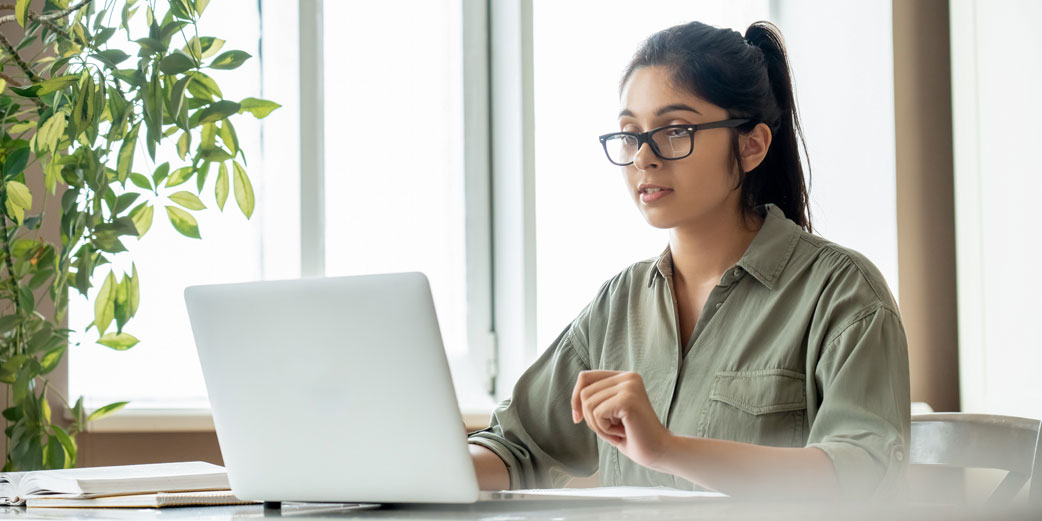 Generate awareness
Students are typically willing to provide feedback to institutions about their experiences, especially if they know that feedback will be used to inform decision making at the college. However, the key is for the students to be aware that a student satisfaction survey is available to complete and to know that the institution is seeking this information from them. For on-ground environments, posters and table tents displayed in the student union and announcements in the classroom can build awareness. For online environments, options include emails from recognizable names at the institution, announcements in student portals and on the college website, as well as announcements by faculty during communications with students in their classes. It is also important to help students understand that satisfaction surveys are gathering broader information about the student experience than the course evaluations they typically complete.
How satisfied are online learners nationally?
The 2020 national results from RNL's Priorities Survey for Online Learners (PSOL) indicate that online learners are very satisfied with their overall experience.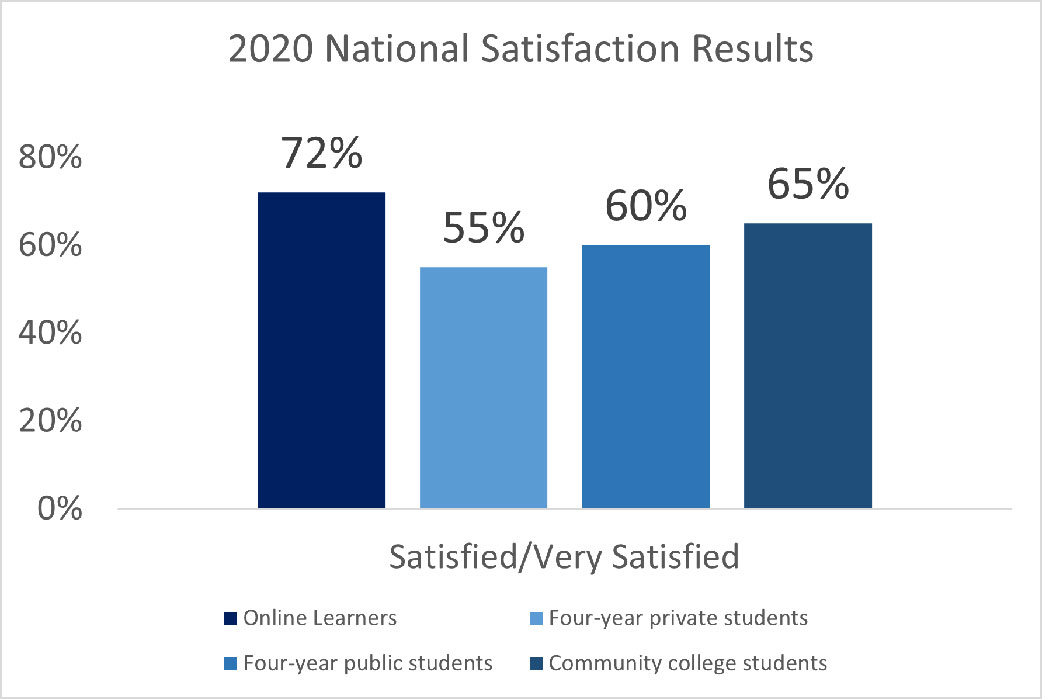 This chart reflects that online learners are more satisfied overall than students at four-year private or four-year public institutions or community colleges. Online learners in online programs tend to be highly motivated and relatively satisfied with the educational experience they have chosen.
What can be improved? Top areas for improving online learner satisfaction
While online learners indicate high levels of satisfaction, there is still room for improvement at both the national level and for individual institutions. Top priority areas are those where students indicate high importance to the student and lower satisfaction ratings for those items. Nationally, responses from online learners identified these as their top priorities:
The quality of online instruction is excellent.
Faculty are responsive to student needs.
Faculty provide timely feedback about student progress.
Tuition paid is a worthwhile investment.
The worthwhile tuition item is one that is often identified by on-ground student populations as well, and can reflect student perceptions about the value of tuition. It is a topic we have addressed in previous blog articles, including communication suggestions and focusing on the "small stuff" to improve tuition perceptions.
The faculty items highlight the power of the relationships that online learners have with faculty as their primary connection to the institution. When most student interactions occur in the online classrooms, this is where priority expectations are going to exist.If these were your top challenges, key activities would be to work to improve faculty responsiveness and timely feedback as well as the quality of instruction. There would also be opportunities to adjust the perceptions students have in these areas, with better communications about when they can expect to receive feedback and responses from faculty members as well as guidelines on how the online learning experience is different, and potentially better, than face-to-face instruction.
It will be interesting to see how increased experiences with online instruction during the pandemic (both at the high school level and in higher ed) may alter student perceptions in this area going forward. Historically, students who consider themselves to be enrolled primarily on-campus but were enrolled in online courses are more critical of online instruction—which may have consequences for student satisfaction in this area over the past year of virtual learning as part of the social distancing protocols. We will take another close look at this item in the 2021 national data set later this year.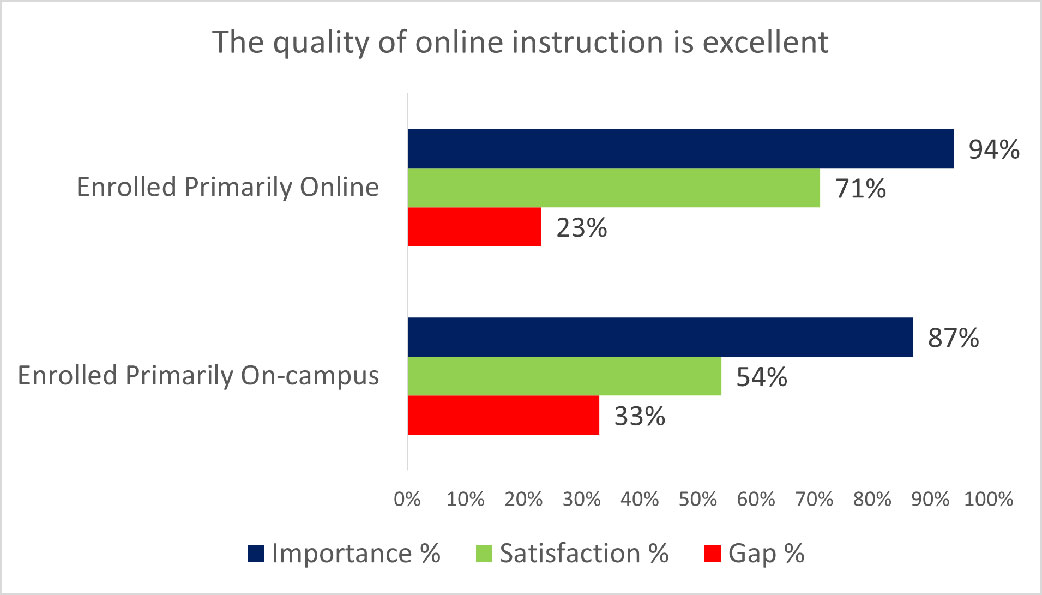 Changing the student experience where needed and letting students know that changes were made (through email messages, postings in the portal, and announcements by faculty) are all key steps for seeing satisfaction levels improve over time.
How satisfied are YOUR online learners?
Have you assessed the student satisfaction of your online learners? While there may have been some hesitation to gather student feedback during the early weeks of the pandemic, institutions now are recommitting to assessing student satisfaction. For your students enrolled in online programs either by choice or because of current circumstances, it is important for you to understand where your institution is performing well and what aspects of the educational experience could be improved. Gathering the student feedback and responding as appropriate will show your student population that you are committed to student success.
RNL can assist you with conducting an administration of the Priorities Survey for Online Learners with account set ups within 5 business days, administrations over three weeks, and comprehensive results delivered with two weeks. Your reports will highlight:
Your own strengths and challenges
How your student satisfaction levels compare with online learners nationally
Trends over time
The reports also provide you with the ability to slice your data by all of the demographic variables, to give you an even clearer picture on which student subpopulations may be more or less satisfied in critical areas.
Which strategies will work best for you? Contact me to learn more about moving forward with your own student satisfaction assessment of online learners.
Optimize the online learning experience
The RNL Priorities Survey for Online Learners provides actionable data to improve the online student experience and increase student retention. Find out how it can benefit your campus.
---