Download this four-page infographic to see how student satisfaction impacts institutional outcomes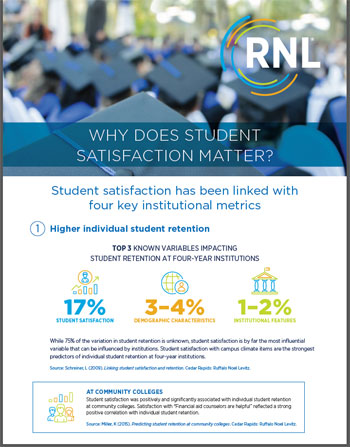 Student satisfaction has been linked with four key institutional metrics:
Higher individual student retention
Higher institutional graduation rates
Higher institutional alumni giving rates
Lower loan default rates
See how in this infographic, which draws on multiple research studies to demonstrate the positive impact of high student satisfaction.
Strengthen student satisfaction and the student experience with RNL's assessment solutions
Improve student satisfaction at your institution with the most trusted student assessments available for higher education, the RNL Satisfaction-Priorities Assessments.
Available for traditional undergraduates, adult learners, and online learners, these survey instruments have been taken by more than 5,500,000 students at 2,700 campuses.