fundraising
Three Key Challenges for Healthcare Fundraising That Are Really Opportunities
Co-authored by Justin Marquart.
As we move into the next phase of healthcare fundraising, we face real challenges to engage donors in a difficult economy, fight for attention for our cause over others, and maximize return on our tight budgets. We've both faced these challenges before as healthcare fundraisers, and we've learned a few things that make a difference. Here are three key healthcare fundraising challenges and how we can turn them into real opportunities to transform the donor experience.
It's never been more complicated to engage grateful patients and healthcare givers, and that's an opportunity to innovate
As healthcare fundraisers, you know the challenges of navigating a high volume of patient data, security, HIPAA—all in a timely fashion—that keeps you both legally compliant and relevant to donors. In today's fundraising world, there is also the added complexity of a donor base being engaged by a crowded non-profit marketplace. Donors are busier, less loyal, and have less attention for the tried-and-true non-profits of hospitals, churches, and colleges.
In a time when our donors are being approached by a record number of causes, they are asking: "What have you done lately for me, doc?" The fact that you are their hospital, or a healthcare research and advocacy group close to them, means less today. It's now about how donors have been engaged, the experience you've provided, and "what's new." We just can't get by on the old school fundraising practices of send out a letter, make some calls, and see who gives.
Instead, it's about providing relevant information and experiences wrapped into a brand that communicates meaning and purpose. That requires coordination across channels: mail, email, and digital advertising, alongside personal outreach like video messages, calls, and texting. Grateful patient fundraising might also include your crowdfunding efforts, giving day, and social media outreach. It's…a lot. And few organizations are truly able manage it all in a way that provides a responsive, compelling donor journey.
Once you put the resources in place, however, these tools allow you to do a crucial thing: tell a story. The fact that we must now provide a narrative of impact rather than just ask for money frees us to engage key stakeholders like doctors, patients and fellow donors, as well as the researchers on the cutting edge of new treatments and cures.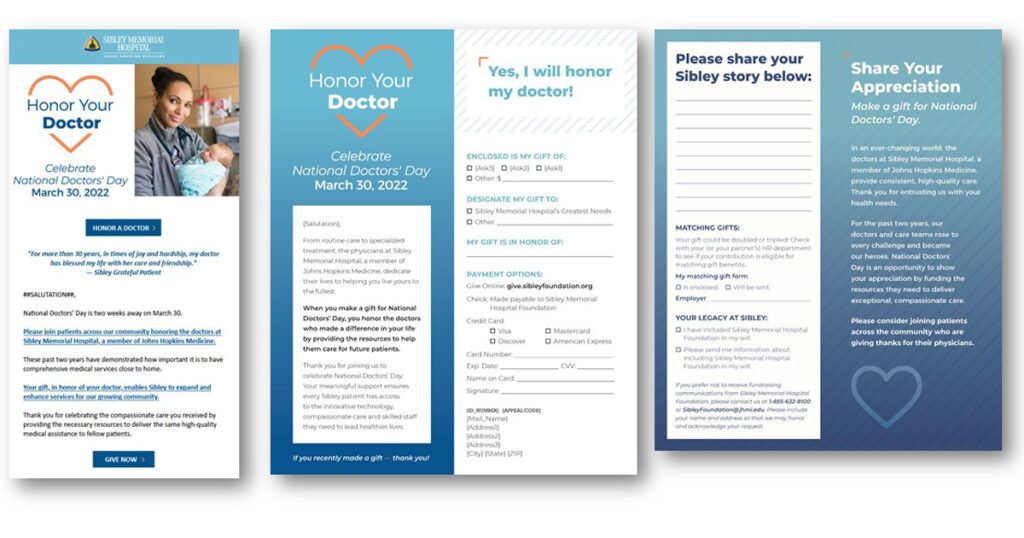 Talk with us about your healthcare fundraising opportunities
Our experts can help you identify, engage, cultivate and solicit the best donors with high ROI to maximize your annual and major gift success. Reach out to set up a time for a complimentary consultation.
Donors want a personalized experience, and we have the technology to make it possible.
While we predict you'll always have traditional groups like donor segments in your outreach (LYBUNTs, SYBUNTs, new donors), today's donors require a much deeper level of personalization. We now have the technology to send out communications, then listen for what donors read, click on, and watch. This technology lets us:
Get smarter—coordinate cohesive storytelling across channels and automate messaging with new tools like artificial intelligence.
Get faster—engage grateful patient prospects in cadence of communications more swiftly to boost acquisition.
Build a big gift pipeline—identify prospects as they engage for increased attention and qualify givers for gift officer contact before asking for an appointment.
That's right, the best healthcare fundraising shops don't blindly assign gift officers a pool of wealthy recent patients. They engage in a personalized "warming" campaign, then listen for which of their top-rated prospects actually engage. When you reach out to those ready and involved donors, your gift officers get appointments more quickly and have massively greater success rates.
Fewer resources mean we must focus on donor pipeline, and that's a good thing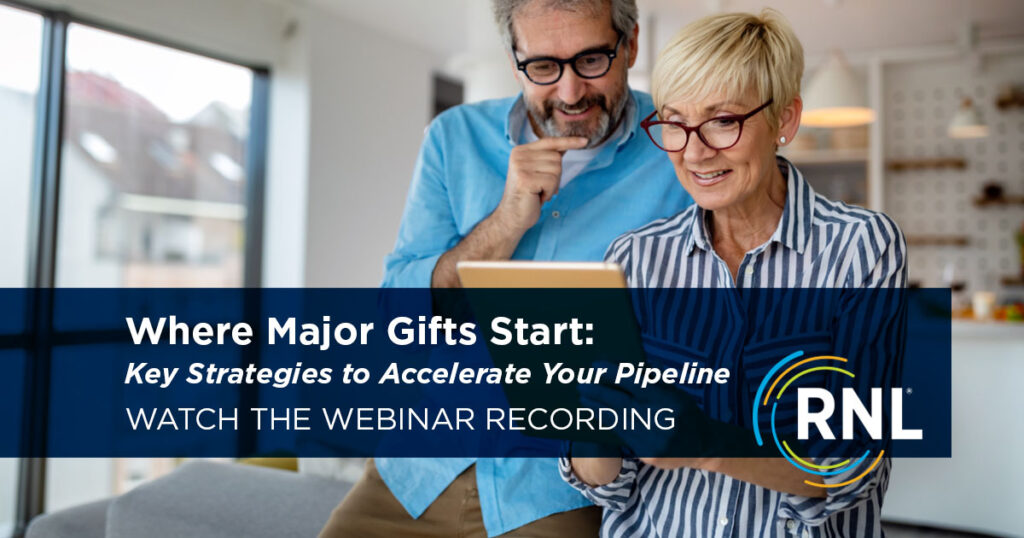 Fundraising budgets are tight. In a time of economic uncertainty, we can't afford to do things the way we've always done them. But rather than cut back on traditional tactics, it's time to think differently.
Instead of thinking about donor acquisition as being the top of a funnel, where just a few people will become major givers, think of donor engagement as the entry point to a pipeline. That pipeline can fuel renewal donations with higher ROI, recurring givers who sign up for giving as a lifestyle, and most importantly a pool of donors who will become major givers.
This requires fundraisers to change the game. It's about finding the balance between high churn acquisition and attrition and zeroing in on the donors who can become part of your long-term support system through personalized cultivation.
This is a key paradigm shift and requires us to abandon old thinking like how many donors did we lose this year? We need to think about the donor experience and instead ask how are we moving donors forward to greater adoption of our mission as their chosen cause, and how quickly are we doing that? The tools we mentioned here can really help with engagement and speed, even on a tight budget.
Turn your healthcare fundraising challenges into major giving opportunities
These are just a few ways we're thinking differently about donor engagement here at RNL. If like what you see, and we've sparked an interest for you in doing things differently, drop us a line. We're ready to talk about new ways to engage the next generation of transformative healthcare givers.
---