enrollment
Eight tips for generating college applications in the student recruitment home stretch
As I visit campuses around the country I often get asked how a campus can generate more applications.  This time of year can be especially challenging because focus often shifts to getting applications complete and yielding those students already in the funnel. However, it is important to stay focused on application generation to ensure you are building the best funnel to reach your enrollment goals for the fall.
Application generation activity should be as targeted as possible.  Often the inquiry pool is too large to do the same to everyone.  Here are eight suggestions when looking to generate more applications:
1. Use a student phone team along with your counselors to call inquiries who have not yet applied.
Data from the most recent Noel-Levitz recruitment practices benchmark report show that 57 percent of four-year private campuses and 68 percent of four-year publics in the study said this method was very effective.  If you do not have a student phone team, I strongly recommend forming one.
2. Send electronic communications to students who have submitted test scores or transcripts but not yet applied.
Drive them to your Web site so they can apply and have a student caller contact them to encourage application.
3. Make students who have visited but not yet applied a priority.
These students tend to be a high yielding group, so in addition to written and electronic communication, have the counselors call these students to follow up on their visit. You should also encourage them to apply soon to qualify for scholarships and financial aid.
4. Students who have started an online application but not yet submitted it to the institution are another promising group that often goes overlooked.
Follow up with communications that include links back to the app that they started.  Students may not realize they did not submit their application.
5. Prioritize inquiries by students who have a student-initiated source code (such as a phone call, e-mail, or online inquiry).
Source codes say a lot about a student's interest, so go after those with high yielding activities.
6. Send electronic communications encouraging application to your non-responder students from your purchased lists.
Consider targeting students who are in your primary market to get the best results late in the season.
7. Consider doing a late SAT or ACT purchase focusing only on students who have taken recent tests.
Drive them directly to the online application and let them know the top three unique attributes that you have to offer them once they enroll. Make sure these are strong benefits or triggers to apply for the type of student you're trying to reach, such as ample financial aid, high job placement, hand-on learning, and so on.
8. Remove as many roadblocks to admission as possible.
Accept faxed test scores from the student's high school, waive the application fee, or remove required essays—you don't want to rely on these methods, but if you're looking for a last minute bump in applications, this can help.
Staying ahead of your application goals through predictive modeling
While I have seen these eight strategies work for campuses, no institution wants to find themselves chasing applicants. However, a number of factors can put campuses behind their application goals. "Secret shopping" by students—not making contact until they apply—can make it very difficult for you to gauge your application counts until very late in the recruitment process.  This trend does not seem to be declining: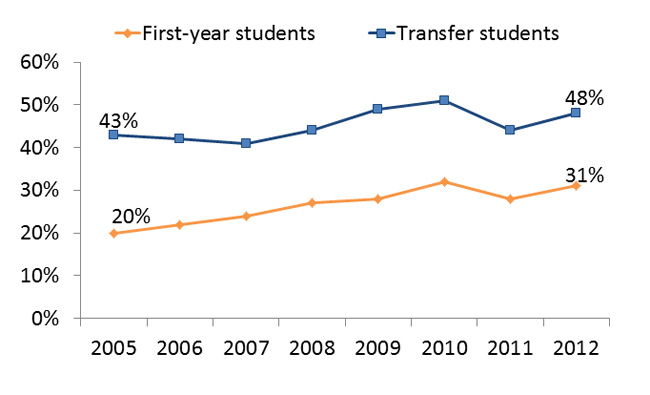 Trends such as this require a more proactive approach to application generation, and that's where predictive modeling for student recruitment can be enormously beneficial. You can use your historical enrollment data to predict the enrollment likelihood of students in your funnel. This allows you to get a big jump on applications—for instance, by treating prospects who have a high probability of enrolling as inquiries.  I highly recommend at least investigating this technique—you can learn more about the Noel-Levitz predictive modeling service—because it can make your enrollment process more timely, efficient, and strategic.
The new year still offers great possibility for success in application generation.  Review your current strategy and find ways to implement a few, if not all, of the above strategies to help you reach your goals for the fall.  If you want to discuss how to implement these strategies, or ways to make your application process more strategic going forward, please e-mail me.
Good luck with the rest of the cycle and may your applications be plenty and your fall enrollment successful.
---