enrollment
Market Research: A Strong Foundation for Strategic Enrollment Planning
Pamela Lee
Assistant Vice President, Marketing and Research Services
October 23, 2019
In today's challenging environment, strategic enrollment planning is taking on greater urgency for many campuses. Successful strategic enrollment planning leads to planned long-term enrollment and fiscal health. This is accomplished using a continuous and data-informed process that:
Provides realistic and quantifiable goals
Uses a return-on-investment and action item approach
And aligns the campus mission, current state, and changing environment
As with any planning process, the data and research relied upon for planning are central to ultimate success. I've done research as part of several strategic enrollment planning projects and can share that, while the specific data elements and research projects in each process may vary, the research itself is central to identifying opportunities and challenges that otherwise may have been overlooked. For example: we've been able to anticipate changing demographics in schools' primary feeder areas, helping them to prepare for shrinking numbers of students and the need to increase market share in particular counties in order to maintain or (ideally) grow current enrollment.
Strategic enrollment planning also has a significant impact on program optimization and development. We've helped several schools determine which of their existing academic programs have the potential to grow if we boost marketing efforts or explore alternate delivery modalities. We've also informed campuses about the development opportunities for new programs and have seen enrollment grow as a result.
Engaging the campus community in the research process and results creates a culture of inclusion and participation. A motivated and engaged campus community ultimately generates agreement and buy-in on the current state, the desired future state, and the path to get from one to the other.
Topics for market research in strategic enrollment planning
The list of possible strategic enrollment planning market research topics is extensive; however, in our experience the most valuable initiatives support assessment of the institution's primary and secondary markets, the institution itself, and its competitors. Three research tools to inform strategic enrollment planning are
academic program demand analyses of current and potential programs
enrollment projection modeling
competitor market intelligence studies
We've all been involved in conversations about how students' and families' college selection is motivated by ultimate job and career opportunities after graduation, which means a corresponding drive for STEM majors, technical skills, and professional learning. Similar stories abound about employers desiring soft skills, critical thinking, teamwork and ethical decision making, cultivated by the liberal arts. Given those external pressures, plus the necessary investments involved in launching new programs, there is really no room for error. Market research is necessary to identify the programs that will differentiate the institution, appeal to a sufficient number of students to make the program viable, and have strong outcomes in terms of employment and graduate school placement.
Academic program demand
In the strategic enrollment planning market research projects I've worked on, RNL has often performed an Academic Program Demand Analysis. This is an assessment of both student and employer demand for specific academic programs as well as an institution's market share of their current offerings in their unique market space. It shows campuses if new programs under consideration will meet new student objectives.
The process involves secondary research on market share, occupational trends, and other indicators of program demand which help an institution determine which programs they'd like to test with primary survey research. We are able to plot current programs in demand/share quadrants and identify those programs in the strongest position for enrollment growth. We are also able to identify programs with a lot of potential (high student and employer demand) that are not currently offered by the institution. The survey research of prospective students then measures interest in specific tested programs, preferred modalities/scheduling, as well as the likelihood of prospective students to study their preferred program in their preferred format at the target institution.
This chart illustrates graphically how we plot current and prospective programs.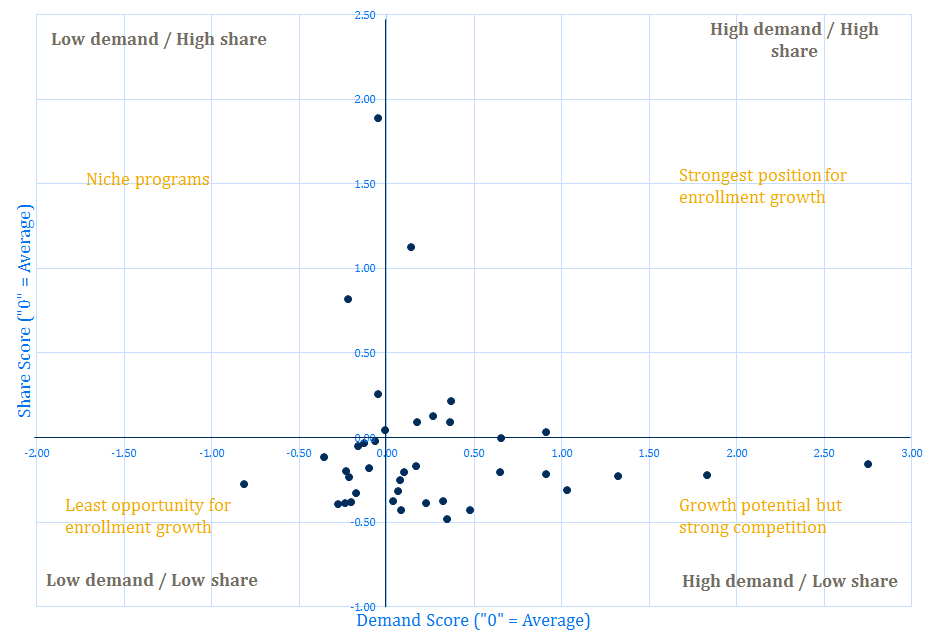 You can see that with these data, it is much easier for a campus to chart a path and focus its program development, marketing, recruiting, and financial aid resources toward programs that are aligned with market demand and can drive enrollment. In this example, recommendations that might come from this research could include:
There's more interest in Criminal Justice in the institution's market than it is currently capturing. Increased marketing efforts around the program could net 15 additional students annually.
A new master's degree in Business Analytics could yield 18 students per year, and the preferred modality for the program is primarily online, with occasional on-campus meetings.
Enrollment projection modeling
Enrollment projection modeling is beneficial to strategic enrollment planning. I previously wrote about using county-level high school enrollment projections to size your college enrollment market—you can read that blog and learn the formula for doing this work. Essentially, given the "demographic cliff" much of the country is facing in the next few years for enrolling traditional-age college students, institutions need to be more strategic and precise in understanding where potential student pools exist. With existing enrollment data in hand, your campus can see trends in enrollment and use these data to make enrollment projections and the appropriate allocation of resources.
Competitor market intelligence
Competitor market intelligence examines competitor websites and analyzes the messages and media competitors use to reach audiences that you are also targeting. Through this research you learn which programs your competitors offer and which ones offer the programs online. You can analyze the tuition, sales, and marketing messages for each program and see competitors' strengths and weaknesses as perceived by the marketplace.This begins with the market share data accumulated in the academic program demand work and also includes an analysis of your lost admits and non-returning students.
Rolling up your sleeves with strategic enrollment planning
My colleague Dr. Lew Sanborne, who leads RNL's strategic enrollment planning practice, says that the building blocks of strategic enrollment planning are "to bring the right people to the table, provide them with access to institutional and external data, foster collaboration across the institution, embrace transparency, and roll up your sleeves and get to work." So, go forth with this outline and collect the data to inform your planning process. There are two great ways to start:
Join Lew, myself, and a number of our experienced colleagues at the 2019 Strategic Enrollment Planning Executive Forum in New Orleans. This is a hand-on event for other enrollment management leaders to further explore strategic enrollment and institutional strategic planning. You'll not only explore the foundations of strategic enrollment planning, you will leave with beginnings of an actual plan you can continue to create when you return to campus.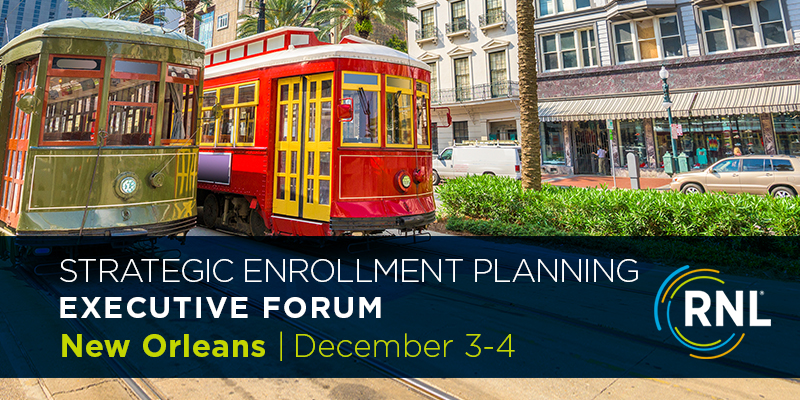 ---