2020 Strategic Enrollment Planning Executive Forum
Join enrollment management professionals on December 2-3 for this
virtual forum on strategic enrollment planning
In today's disrupted higher education environment, colleges and universities need a strategic, data-driven plan that will address the new realities of enrollment management, meet their enrollment goals, and achieve long-term institutional sustainability.
Join us for an interactive online forum for campus leaders. You'll learn directly from experienced strategic enrollment planning experts as you analyze fiscal, academic, and resource challenges in order to create a plan that will help your institution thrive.
Who should attend?
President or chancellor
Chief enrollment officer/Vice president for enrollment
Provost or chief academic officer
Chief fiscal officer
For maximum benefit, bring your entire cabinet or executive leadership team to evaluate high-impact strategies that cross divisional lines.
See how to achieve lasting success in a rapidly changing environment
This virtual forum will dive into the most relevant topics as well as provide opportunities for discussion and starting the planning process. You'll explore key issues that impact institutional sustainability and have a head start on creating your own institutional strategic enrollment plan. Topics include:
Tackling external trends and demands—and internal strengths and weaknesses—that influence student enrollment
Analyzing academic program trends and their revenue implications
Strengthening student success and completion as well as new student enrollment
Aligning strategy development with enrollment and financial projections through a return-on-investment (ROI) analysis
Winning support campuswide by designing a cross-divisional strategic enrollment planning process
Receive a free copy of RNL's book on Strategic Enrollment Planning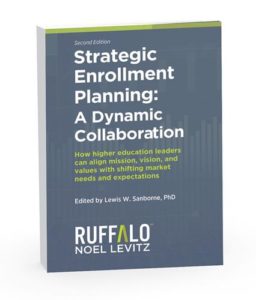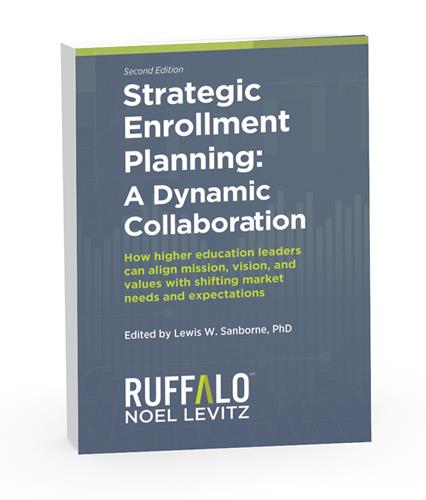 Each attendee will receive a free copy of Strategic Enrollment Planning: A Dynamic Collaboration. This second edition of the landmark book covers topics such as KPIs, financial aid aid and net revenue, marketing and recruitment, and student retention.
Agenda
The sessions at the virtual Strategic Enrollment Planning Executive Forum will initially be broadcast online December 2-3. All sessions will then be available on-demand.
All times below are Central Time (CT). Please note that this schedule is subject to change. If you have any questions, or suggestions for topics, please contact us.
Wednesday, December 2
---
10:00 – 10:15 a.m. CT
Welcome and Forum Overview
---
10:15 a.m. – 11:15 a.m. CT
Opening Keynote:
"The Strategic Enrollment Planning Imperative: Higher Education Past and Present"
---
Break
---
11:30 a.m. – 12:30 p.m. CT
Overview of the SEP Process and Setting the Stage for Campus Engagement
Dr. Lew Sanborne, Vice President, RNL
---
Break
---
1:00 – 2:00 p.m. CT
Breakouts by Institution Type
Creating the organizational structures, defining scope and populations, and identifying Key Performance Indicators
---
Break
---
2:15 – 3:15 p.m. CT
Lessons From Campus
Stuart Jones, Vice President for Advancement and Enrollment Management, Southern Utah University
---
END OF DAY 1
Thursday, December 3
---
10:00 – 11:00 a.m. CT
Data Collection and the Situation Analysis
Research, data compilation, dashboards, elements of comprehensive situation analysis
Kim Schroeder, Associate Consultant, RNL
---
Break
---
11:15 a.m. – 12:15 p.m. CT
Breakout Sessions—Strategy Ideation and Development
How the research and data feed into strategies, preliminary vetting of potential strategies, and developing meaningful business plans
---
Break
---
11:45 a.m. – 12:15 p.m. CT
Strategy Prioritization, Projections, and Goal Setting
---
Break
---
2:00 – 3:00 p.m. CT
The Plan Document, Implementation, and Transitioning from SEP to SEM
Dr. Lew Sanborne, Vice President, RNL
---
Break
---
3:00 p.m. CT
Forum Closing