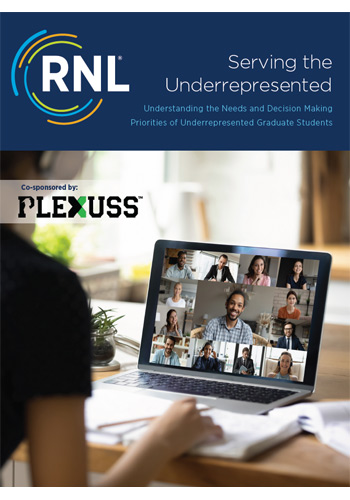 Read 12 key findings about the needs and priorities of underrepresented graduate students
The enrollment of underrepresented graduate students has grown in the last decade, but there is still much work to be done to understand the expectations and needs of underrepresented graduate students. To help understand those expectations, RNL dove into the data from our 2021 Graduate Student Recruitment Report to examine responses by ethnicity.
Download Serving the Underrepresented to read 12 key insights about underrepresented graduate students, including:
Type of graduate program students desire
Preferred course length and modality
The influence of digital marketing and social media during the program search process
How quickly students expect programs to respond to inquiries and make admission decisions
The most import features that determine if they will enroll in a graduate program

This research report was co-sponsored by PLEXUSS.