student success
Graduation rates and student satisfaction
Julie Bryant
Associate Vice President of Retention Solutions
June 19, 2014
At next month's Noel-Levitz National Conference on Student Recruitment, Marketing and Retention Conference in Chicago, my colleague Scott Bodfish and I will be presenting the session, "Do Lower Prices Increase Student Satisfaction?"  To answer this question, we looked at national data from the Student Satisfaction Inventory™ within the context of IPEDS data variables. We grouped schools into three categories based on these variables for "Low" (bottom 25 percent), "Medium" (middle 50 percent), and "High" (top 25 percent).  In addition to looking at tuition levels, we also looked at graduation rates and enrollment size to observe differences in satisfaction with these indicators.
As expected, we do observe higher satisfaction scores at institutions with higher graduation rates: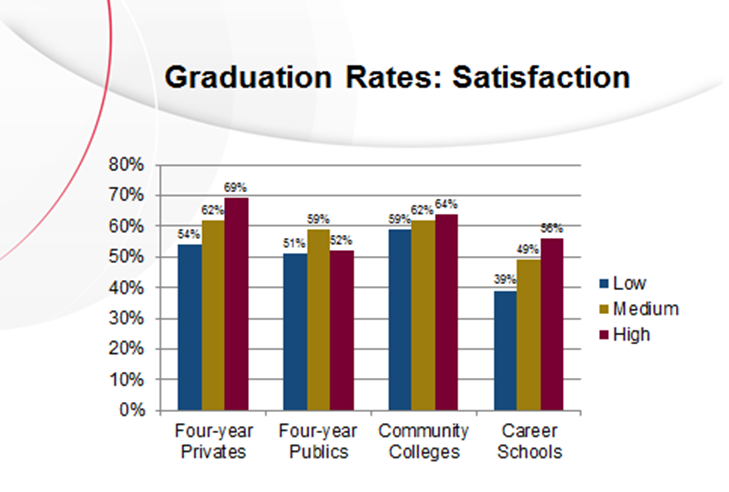 While four-year public institutions peak in satisfaction at medium graduation rates, four-year privates, community colleges and career schools all reflect higher satisfaction scores as graduation rates increase. This reinforces the idea that satisfaction and retention are linked.
So do lower prices increase student satisfaction? Join us in Chicago July 8-10 to learn the answer to that question!
---