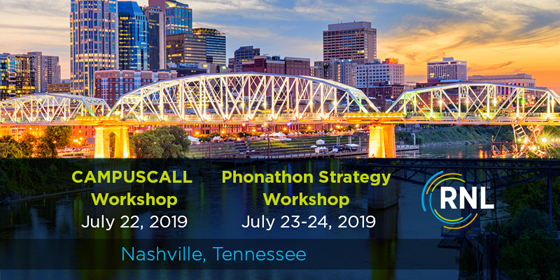 Join us for the RNL CAMPUSCALL and Phonathon Strategy Workshops, designed for newcomers and experienced veterans
Register early to receive the best workshop rate
| Register | by June 21 | after June 21 |
| --- | --- | --- |
| 1 to 2 from an institution | $515 per workshop per person | $565 per workshop per person |
| 3 or more from an institution | $495 per workshop per person | $545 per workshop per person |
The RNL CAMPUSCALL Workshop will provide users of our phonathon software with a wealth of information on features and strategies to maximize your results. The RNL Phonathon Strategy Workshop will explore the latest trends and best practices for campus phonathons (see more details on the RNL Phonathon Strategy Workshop).
Who should attend the CAMPUSCALL Workshop
Users who are new to CAMPUSCALL and looking to start strong with the platform.
Current users looking for additional insights on being more productive and getting greater results.
CAMPUSCALL Workshop schedule
Monday, July 22
7:30-8:00 a.m.—Check-in and continental breakfast
8:00 a.m.-noon— Workshop sessions, topics to be covered:
Calling Routine: What the callers will use
Project Control: How to create a project
Segment Group Control: Parameters for setting up segments, how to create segments
Calling Pool Maintenance: How to set up calling pools, set up a phone order
Layouts: How to edit layouts
Scripts: How to create/edit scripts, how to create script groups
Email Admin: How to create emails
Callblocks: How to create callblocks
Manage Prospects: How to edit prospect information, enter a new prospect
Remove Prospects: How to manually remove prospects from CAMPUSCALL
Delete Download: How to permanently remove prospects from CAMPUSCALL
Clients: How to customize the calling routine, logo, and colors
Site Profile: How to set up defaults for your site, site calendar
Employee Demo: How to enter/edit employees
Security Admin: How to unblock callers/computers
Security Roles: How to edit/add roles
Admin Codes: How to edit/add designation codes, pledge reasons, refusal reasons, and standard comments
Noon-1:00 p.m. Hosted lunch
1:00-5:00 PM— Workshop sessions, topics to be covered:
Calling Assignments: How to assign/edit calling pools
Online Telemarketing: How to edit a prospect's record
Employee Monitoring: How to monitor callers that are in the CAMPUSCALL calling routine
Online Stats: How to monitor stats, how to set up stat configurations
Prospect Review: How to see the history on a prospect's record
Email Approval: How to approve emails before they are sent
Messaging: How to send a one way message to a caller
Recycle Calling Pools: How to refresh records to call them again
Callback Analysis: How to manage callbacks that have been set
Project Analysis: How to analyze segments and calling pools
Employee Call History: How to look up a caller's call history for a date range
Master Prospect Lookup: How to look up a prospect in any project
Reports Plus: Commonly used reports, how to run and read them
5:00 p.m.—Adjournment
About the CAMPUSCALL Workshop presenters
Sarah Ware—Senior Software Trainer, Ruffalo Noel Levitz
Sarah Ware has spent almost two decades in fundraising and phonathon management with a predominant focus in software training, specifically RNLs suite of CAMPUSCALL applications. During her tenure, she has managed and consulted with numerous call centers, ranging in size, scope, and program goals. Sarah has conducted both remote and onsite training for hundreds of CAMPUSCALL and SaaS clients over the years, and this workshop is part of her ongoing effort to help RNL's partners maximize their program results with CAMPUSCALL.
Jennifer Sweeney—Senior Manager, Talent Development, Ruffalo Noel Levitz
Jennifer Sweeney has worked in fundraising management since 2002 with an emphasis on phonathon talent development for the last 10 years. In her role, she oversees the training and professional development of those entering the Program Center Manager role and is responsible for the development and coordination of a personalized training plan aimed at meeting the needs of the client, program, and employee.
Accommodations: Gaylord Opryland Resort and Convention Center
Rate: $219/night
Reserve by: June 27
Hotel address:
2800 Opryland Drive
Nashville, TN 37214
The RNL CAMPUSCALL and Phonathon Strategy Workshops will take place at the Gaylord Opryland Resort and Convention Center, which will also provide overnight accommodations for guests. The Gaylord Opryland will also provide accommodations for the RNL National Conference, July 24-26.
The Gaylord Opryland is a short walk from the historic Grand Ole Opry and near the heart of downtown Nashville. The resort features the SoundWaves water entertainment experience, the 18-hole Gaylord Springs Golf Links, a full spa, and included amenities such as in-room wi-fi and access to the fitness center. Conference guests will receive a rate of $219/night. Note a one-night room deposit will be charged at time of reservation.
Reserve your room early
To receive this rate, guests must make reservations by June 27. However, rooms are expected to sell out sooner, at which time they will be on a space- and rate-available basis. Reserve now.
Stay for the Phonathon Strategy Workshop and RNL National Conference
The Phonathon Strategy Workshop will follow on July 23-24 and is ideal for phonathon managers. In addition, the RNL National Conference on July 24-26 will feature an entire conference track on fundraising strategies and innovations.
Receive $200 off your RNL National Conference registration when you attend the conference and either the CAMPUSCALL Workshop or Phonathon Strategy Workshop.