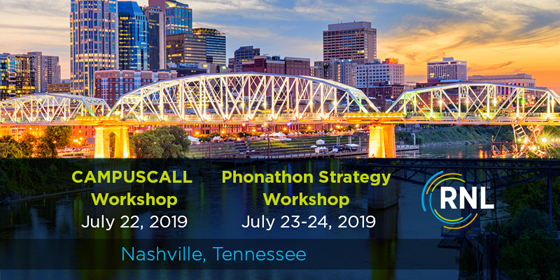 Join us for the RNL CAMPUSCALL and Phonathon Strategy Workshops, perfect for phonathon veterans and newcomers
Register early for the biggest savings.
| Register | by June 21 | after June 21 |
| --- | --- | --- |
| 1 to 2 from an institution | $515 per workshop per person | $565 per workshop per person |
| 3 or more from an institution | $495 per workshop per person | $545 per workshop per person |
Designed for phonathon veterans as well as newcomers, the RNL Phonathon Strategy Workshop will explore the latest trends and best practices for campus phonathons. It takes place after the RNL CAMPUSCALL Workshop, which provides users of our phonathon software with a wealth of information on features and strategies to maximize your results (see more details on the CAMPUSCALL Workshop).
Agenda: Phonathon Strategy Workshop
Tuesday, July 23
7:30 – 8:00 a.m.
Workshop check-in and continental breakfast
8:00 – 8:15 a.m.
Welcome and introductions
8:15 – 9:15 a.m.
Prioritizing Your Potential: Using Segmentation to Drive Effective Program Results
Knowing how to break out your data for the greatest impact is at the heart of this presentation. We'll explore various segmentation and calling pool strategies, including how to use these important tools to maximize program results.
9:15 – 10:15 a.m.
Fortune Telling vs. Forecasting: Using Data to Set Realistic Expectations
Many of us are tasked with the awkward challenge of matching leadership's goals with that of our own forecasting. During this presentation you will learn to set realistic, yet challenging, goals that will help you get the most out of your phone program.
10:30 – 11:15 a.m.
Morning session review/discussion
11:15 a.m. – 12:15 p.m.
Setting Your Team Up for Success: How to Schedule and Conduct the Right Caller Training
Being a call center manager is a lot like being a football coach, and when it comes to training, your callers need to be prepared for whatever your alumni are going to throw at them. In this presentation we'll discuss key components of successful new hire training.
12:15 – 1:15 p.m.
Hosted networking lunch
1:15 – 2:15 p.m.
Impacting Employee Motivation: Understanding How to Manage to Motivate
Once you've hired and trained your student callers, it's on you to keep them motivated. We'll help you better understand how your management style impacts motivation, motivation plans, caller coaching, follow-up, and performance improvement.
2:15 – 3:15 p.m.
From Script Writing to Storytelling: Key Components to Building a Rapport-Driven Call
A conversational student caller blends rapport and scripted topics effortlessly. But how do you create a staff of storytellers who can move through an ask strategy? This session will show you how to blend objectives and conversation!
3:30 – 4:30 p.m.
Evaluating Recruiting and Staffing Needs: Planning for Success
The right number and mix of student callers plays a crucial part in the success of your call center. This session will explore recruitment strategies that help align your capacity goals and staffing targets at different times throughout the fiscal year.
4:30 – 5:30 p.m.
Round-table/breakout groups
5:30 – 6:15 p.m.
Networking reception (optional)
6:15 p.m.
Free evening to enjoy Nashville
Wednesday, July 24
7:30 – 8:00 a.m.
Continental breakfast
8:00 – 9:15 a.m.
Maximizing Reporting: A Practical Look at Reports Plus
Although robust reporting capabilities have always been a cornerstone of CAMPUSCALL, Reports Plus is often a program that is underutilized and somewhat intimidating, even for the most savvy of users. This session will take a practical look at Reports Plus and how it can be used to impact a program on both macro and micro levels. We will review sample reports, including reports to utilize when setting up shifts and reports for impacting caller efficiency and overall performance.
9:15 – 10:30 a.m.
Planning and Executing a Great Calling Shift: Strategies for Success
Learn proven strategies for planning a successful calling shift, including approaches for calling assignments, proper goal-setting, effective team meetings, and mid-shift calling pool changes.
10:30 – 11:30 a.m
Open forum/Q&A
11:30 a.m.
Adjournment
About the presenters
Jennifer Sweeney—Senior Manager, Talent Development, Ruffalo Noel Levitz
Jennifer Sweeney has worked in fundraising management since 2002 with an emphasis on phonathon talent development for the last 10 years. In her role, she oversees the training and professional development of those entering the Program Center Manager role and is responsible for the development and coordination of a personalized training plan aimed at meeting the needs of the client, program and employee.
Peter Christian—Director, Campus Relations, Ruffalo Noel Levitz
Peter Christian launched a love for higher education fundraising more than a decade ago. With experience managing programs both domestically and abroad, Peter brought his fundraising management into senior and director level roles with Ruffalo Noel Levitz in 2016. Peter took his operational knowledge and management talent to sales, currently serving as a director of campus relations at RNL.
Accommodations: Gaylord Opryland Resort and Convention Center
Rate: $219/night
Reserve by: June 27
Hotel address:
2800 Opryland Drive
Nashville, TN 37214
The RNL CAMPUSCALL and Phonathon Strategy Workshops will take place at the Gaylord Opryland Resort and Convention Center, which will also provide overnight accommodations for guests. The Gaylord Opryland will also provide accommodations for the RNL National Conference, July 24-26.
The Gaylord Opryland is a short walk from the historic Grand Ole Opry and near the heart of downtown Nashville. The resort features the SoundWaves water entertainment experience, the 18-hole Gaylord Springs Golf Links, a full spa, and included amenities such as in-room wi-fi and access to the fitness center. Conference guests will receive a rate of $219/night. Note a one-night room deposit will be charged at time of reservation.
Reserve your room early
To receive this rate, guests must make reservations by June 27. However, rooms are expected to sell out sooner, at which time they will be on a space- and rate-available basis. Reserve now.
Stay for the CAMPUSCALL Software Workshop and RNL National Conference
The RNL CAMPUSCALL Workshop will take place July 22, the day before the Phonathon Strategy Workshop. In addition, the RNL National Conference on July 24-26 will feature an entire conference track on fundraising strategies and innovations.
Receive $200 off your RNL National Conference registration when you attend the conference and either the Phonathon Strategy Workshop or CAMPUSCALL Workshop.