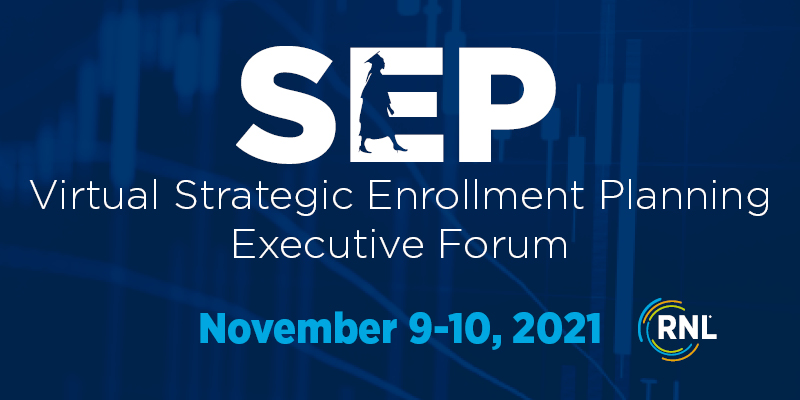 Join enrollment management professionals on November 9-10 for this virtual forum on strategic enrollment planning
In today's disrupted higher education environment, colleges and universities need a strategic, data-driven plan that will address the new realities of enrollment management, meet their enrollment goals, and achieve long-term institutional sustainability.
Join us for an interactive online forum for campus leaders. You'll learn directly from experienced strategic enrollment planning experts as you analyze fiscal, academic, and resource challenges in order to create a plan that will help your institution thrive.
Who should attend?
President or chancellor
Chief enrollment officer/Vice president for enrollment
Provost or chief academic officer
Chief fiscal officer
For maximum benefit, bring your entire cabinet or executive leadership team to evaluate high-impact strategies that cross divisional lines.
Agenda
The sessions will initially be broadcast online on November 9-10. All sessions will then be available on demand. All times listed below are in Central Time (CT). Session are subject to change, additional session info to come in the following weeks.
Tuesday, November 9
12:00 – 12:12 p.m. CT
Forum Welcome and Opening
---
12:15 – 1:15 p.m. CT
The SEP Imperative: Higher Education Past and Present
---
1:15 – 1:30 p.m. CT
Break
---
1:30 – 2:30 p.m. CT
Preparing for the Process and Project Overview
---
2:30 – 2:45 p.m. CT
Break
---
2:45 – 3:30 p.m. CT
Working Session: Scope, Metrics, Key Populations; Organizational Structure
---
3:30 – 4:00 p.m. CT
Lessons from Campus
Wednesday, November 10
10:00 – 10:45 a.m. CT
From Situation Analysis to Strategy Ideation
---
10:45 – 11:15 a.m. CT
Action Planning Fundamentals
---
11:15 – 11:30 a.m. CT
Break
---
11:30 a.m. – 12:15 p.m. CT
Working Session: Strategy Ideation & Action Planning
---
12:15 – 12:30 p.m. CT
Break
---
12:30 a.m. – 1:00 p.m. CT
Building the Plan and Transitioning From SEP to SEM
---
1:00 – 1:30 p.m. CT
Working Session: Building the Annual Calendar: Ongoing Evaluation and Continuous Improvement
---
1:30 – 1:45 p.m. CT
Break
---
1:45 – 2:00 p.m. CT
Forum Closing
---
2:00 p.m. CT
Adjournment
---