Strengthen your market awareness by building a strong digital presence
Your digital communications impact your market position and awareness more than any other communication channel. Your website, social media, digital advertising, and e-communications need to convey your benefits and offerings in a way that resonates with prospective students.
Read the latest E-Expectations® report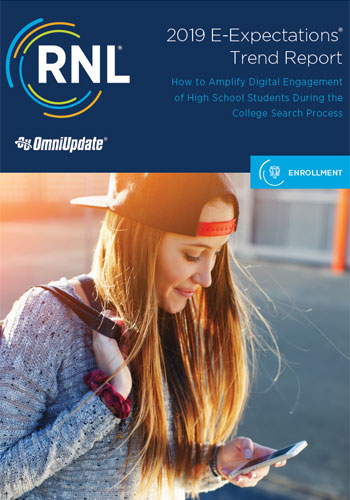 This report from RNL and OmniUpdate examines the behaviors and expectations of high school juniors and seniors as they research colleges online. The findings cover website content, social media, net price calculators, email, texting, and much more.
RNL Digital Marketing and Creative Services enable you to create a compelling digital presence.
Tap into our technical expertise, enrollment experience, and extensive resources to:
Create customized approaches that precisely fit your mission and enrollment goals
From complete website development to testing and analytics, no project is too big or small, and we'll make sure the solution we propose meets your goals.
Communicate with students across any electronic medium
Add compelling digital content across multiple channels to attract students and encourage them to enroll.
Find a partner who collaborates in your success
You have already worked hard to create an e-communications program at your campus. We build on your efforts, and we stay by your side to make sure what we propose turns into a working reality for your campus.
Website development discovery research
Design consultation
Content development
Content management
Search engine marketing
Remote and onsite user testing
Google Analytics support
Click here to learn more.
Turnkey email services
Social media strategies
Admitted student site development
Click here to learn more
Call 800.876.1117 to have a free consultation with our Web and Interactive Marketing strategists.
Strategy Roadmap Solutions
RNL Digital Marketing and Creative Services
Drive online engagement and build connections that produce great enrollment results.
RNL Comprehensive Consulting for Student Recruitment, Retention, and Financial Aid
Make your enrollment efforts more effective and efficient—from awareness to financial aid awarding to graduation.
RNL Strategic Enrollment Planning
Ensure long-term enrollment success and fiscal health by aligning your institution's fiscal, academic, co-curricular, and enrollment resources with its changing environment.
RNL Market Research
Guide your enrollment decisions with solid research and data on academic demand, price sensitivity and cost, and other key areas.