Transforming enrollment marketing through student-driven engagement
RNL Student Journey is the future of enrollment marketing. This trailblazing approach creates a self-directed exploration during the college search process that is more relevant, timely, and compelling to students and parents.
The RNL Student Journey solutions
RNL Student Journey is a family of solutions that enable institutions to target students for specific programs or from specific markets, and engage them through a self-directed, personalized enrollment journey.
RNL Academic Program Student Journey
Engage and enroll students in specific majors that you are trying to grow.
RNL New Market Student Journey
Identify students in new markets who are more inclined to enroll at your institution.
RNL First-Generation Student Journey
Guide first-generation students toward enrollment with customized outreach for them and their parents.
An enrollment solution unlike anything else in higher education
Powered by marketing automation, the RNL Student Journey solutions follow the natural flow of a relationship, using dynamic responsive messaging and engagement scoring to deepen the bonds between prospective students and your institution.
EMPOWER students to discover their path to enrollment, finding the information they need whenever they need it
ENGAGE students by providing an authentic experience into their world—personalized, online, and social
TARGET students who fit your enrollment goals, based on RNL research and advanced analytics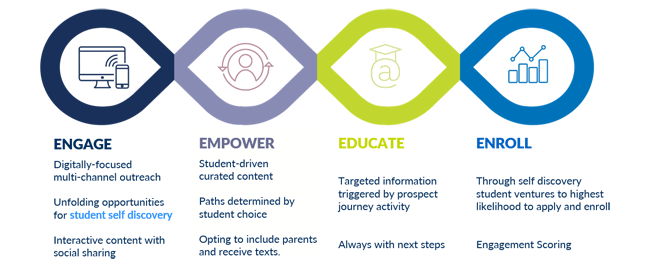 How RNL Student Journey is already benefiting campuses
20% Increase in Enrollment
in a specific academic program for one partner campus
122% Increase in Web Traffic
for one campus during a single campaign
7-Question "Fit Finder" Quiz
provides a unique, personalized path to academic self-discovery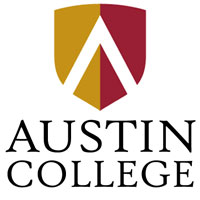 "RNL Academic Program Student Journey was a great fit. It allowed us to be highly targeted toward a population that is strong academically and persists at Austin College well. "
7 powerful components provide a comprehensive approach to student-driven enrollment exploration

Behavioral Engagement Scoring
Real-time engagement scoring powered by student choices identifies which students are ready for immediate outreach.

Individualized Insight and Personalization
Marketing automation and dynamic content provide a highly intelligent, personalized communication at every stage of the journey.

Integrated Outreach
Students receive communication across every channel: digital, social media, email, print, and text.

"Fit Finder" Quizzes
Interactive, self-directed quizzes help students understand what they want to study and connect that desire to your academic program offerings.

Interactive Exploration Hub for Students
Unique to RNL Student Journey this multifaceted hub allows students to discover key information on their terms, increasing the relevance and impact of that information.

Parental Engagement
Parents have their own interactive exploratory hub and tailored communications that make them enrollment advocates for their children.

Responsive Engagement Streams
Student choices an engagement scoring trigger responsive communications that connect students to the most appropriate information, campus personnel, and actions.
Resources Related to Student Journey
What you need to know to enroll this population 1 in 3 incoming freshmen are first-generation college students First-generation college...
Additional Solutions for Building Demand
Demand Builder
RNL Demand Builder combines our student search expertise and multichannel enrollment marketing strategies with award-winning creative and industry-leading research and consulting to identify and engage students most likely to respond to your unique offerings.
Adult Learner, Online Learner, and Graduate Student Enrollment Solutions
Drive enrollment with student attitudinal data, behavioral modeling, and multichannel marketing that resonates with these growing populations.