enrollment
Eight steps for creating a college marketing and communication plan
Sarah Coen
Senior Vice President, Consulting Services
October 27, 2015
What is the best way to communicate with today's prospective college students? Do you still need to send them viewbooks and other publications, or will communicating through email and social media suffice? What about the phone? Can you call their cell phone or send them text messages? These questions come to mind often for many enrollment management professionals as they strive to meet enrollment goals in an ever changing and increasingly competitive environment.
With more students applying and more competition from other colleges and universities, strategic enrollment marketing can make an institution stand out from its competition and put it in a strong position when prospective students do make contact. While new marketing methods and communication technologies need to be integrated into campus campaigns, traditional marketing methods still provide a lot of value when used properly.
Strong marketing and communication plans begin with an understanding of the institutional image and brand. Branding is generally a campuswide initiative that involves university relations and enrollment management (at the very least) and should also be part of institutional strategic planning initiatives or discussions. While branding includes the development of consistent, uniform visual images (i.e., logo, standard colors, and fonts) and often a phrase or tag line, it is much more. Branding is what an institution is known for or wants to be known for–what makes it unique and distinctive. For branding to be effective in new student recruitment, an institution must continually assess how to deliver on the promise of its brand. For example, if a brand communicates "student success is our business," then graduation rates must be well above average, retention initiatives must permeate institutional planning priorities, and alumni successes must be well tracked and documented.
Messaging involves the expression of key strengths that speak to the institution brand and may include some targeted messages for selected audiences. Messaging helps to translate why the brand has value for the audience. Unfortunately, many colleges miss the mark when it comes to selling value. The focus of the key messages tends to be more about the atmosphere of campus (student life, religious affiliation, facilities, for example) than on the actual product—the academic experience and related outcomes.
Once the key messages have been identified, the challenging task of communicating them to prospective students and their families begins. Building effective communication plans for today's prospective students can be daunting. While it is clear that students use many forms of technology to communicate, including web, email, social media, and texting, our research also suggests that many still rely on written communication as well. According to the 2015 E-Expectations Report, 40 percent of college-bound seniors and 45 percent of juniors said they were more likely to consider institutions that use brochures and phone calls to communicate.
One common misconception is that marketing ends when a student is admitted. This is a mistake, especially with students able and willing to apply to more institutions than they did before the advent of online applications and the common application. Effective communication plans should be integrated with the recruitment process, begin at the prospective student stage, and continue until the student is enrolled. Even after students have made a deposit, keep communicating with them and creating compelling reasons for them to see their enrollment all the way through.
Marketing plans differ from institution to institution, but here are eight strategies that can help campuses build strong, effective marketing efforts:
Develop a student search campaign to build brand awareness among high school sophomores, juniors, and seniors. This strategy should include a solid plan for purchasing the right names within primary, secondary, and tertiary markets; communicating effectively with those names; and tracking the enrollment outcomes from the purchased list.
Create a five- to seven-piece communication flow that builds and sustains interest in the institution. This flow should include targeted messages by student population and focus on the key marketing messages of the institution, with particular attention paid to academic outcomes.
Build messaging around the marketing of specific academic programs and the results of those programs in terms of job and graduate school placements, faculty as teachers, and faculty who take time to help students. Specific tactics could include developing web and print collateral that contain information on the program and its points of difference.
Enhance the web presence, including the development of compelling pages that speak to the quality of academic programs and information on affordability. This should include a scholarship and tuition net cost calculator.
Create a comprehensive communication plan for parents of prospective students. Include messages that focus on quality academic programs, faculty as exceptional teachers, and the cost of attendance/scholarships/affordability. (The 2015 Perceptions and Preferences Report examines the communication preferences of parents as well as students.)
Develop a distinctive post-acceptance/yield communications plan designed to build commitment to the university among admitted students, including those who have confirmed their intent to enroll. This should include messages to prospective students that outline next steps in the enrollment process and reinforce their decision to attend.
Create a robust email campaign that complements the written communications flow. Today's prospective students actually prefer the email channel the most: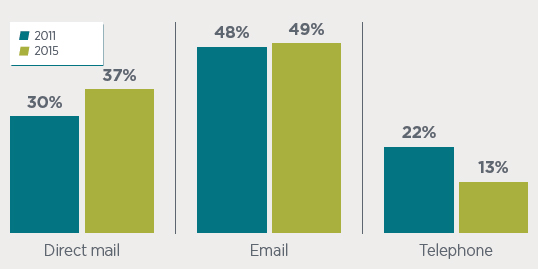 Incorporate telecounseling into your communication plan. Recruiting students is still about building relationships and the phone is the most meaningful "two-way" communication, other than the campus visit. When asked who the most important influencers are in the college search process, nearly 70 percent of students cite admissions counselors as influential: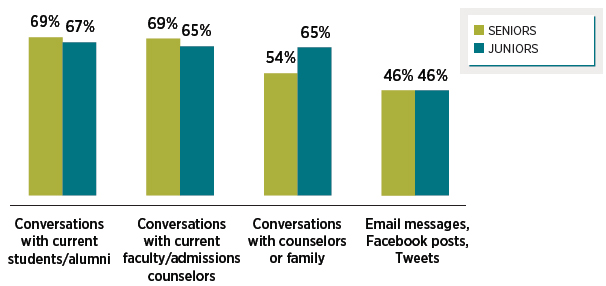 Explore strategies for building an effective marketing plan at a free upcoming webinar
I will be discussing these strategies in more depth at an upcoming webinar, Eight Steps for Creating a College Marketing and Communication Plan, on November 10. I invite you to join me.
I am also happy to discuss which marketing and communication mix is right for your campus as well. Just send me an email with your questions.
Whatever you do, remember to keep communicating, keep targeting, and keep doing everything you can to connect with students and build a relationship with them through your marketing and communications.
---