enrollment
College student satisfaction and academic advising: What do the national data tell us?
Julie Bryant
Associate Vice President of Retention Solutions
April 15, 2016
The 2015-16 National Student Satisfaction and Priorities Report was released last week with its annual review of how satisfied students are and what areas are of top importance to them. This year's report summarizes the findings of more than 578,000 students who completed the Student Satisfaction Inventory (SSI) at 711 four-year private and public institutions, as well as community colleges and career schools across the country between the fall of 2012 and the spring of 2015.
As you may be aware, the SSI asks students to indicate both a level of importance and a level of satisfaction with a variety of institutional experiences. The combination of importance and satisfaction scores provides an opportunity to identify institutional strengths (items of high importance and high satisfaction) as well as institutional challenges (items of high importance and low satisfaction).
Four priority issues emerged for students in this year's results:
Many students at four-year institutions do not think tuition paid was a worthwhile investment.
Students express significant dissatisfaction with the financial aid awarding process and tuition payment options.
Academic advising is a challenge area for community colleges but an area of strength at four-year and career institutions.
Campus climate items reflect a mix of strengths and challenges across institution types.
In the full report, you can see the results that led to these conclusions for all four institution types. Let's take a closer look at the student perceptions of academic advising across the institutional types.
Academic advising and student satisfaction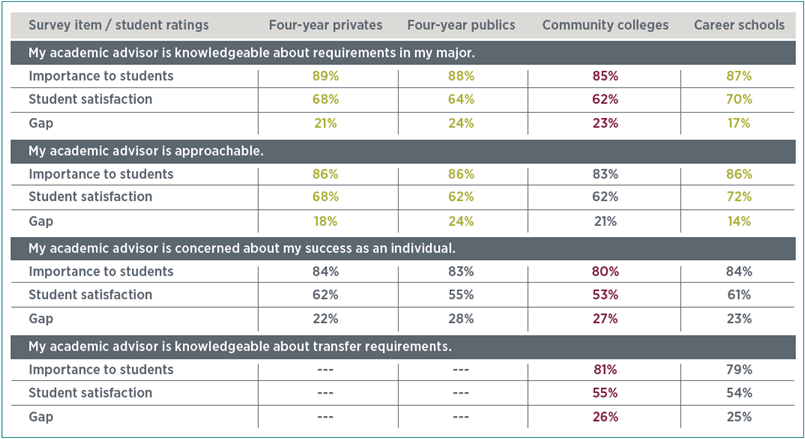 The scores in the table above reflect the percentage of students who indicated that the item was important or very important to them and whether they were satisfied or very satisfied in this area. The gap score is the importance score minus the satisfaction score. The scores in green reflect items of strength while the scores in red are challenge areas. The scores in grey indicate that the item was neither a strength nor a challenge. (Please note that the strengths and challenges are relative to the institution type. What may be a strength or a challenge for one institution type may not be a strength or challenge for another, even if the importance, satisfaction and gap scores are identical.)
What do these national results mean? Because advising matters so much to students on the national level, you may want to consider reviewing your own advising services to be sure they are student-centered and adequately supporting the needs of your students.
Campuses can review their academic advising services and make adjustments, such as:

Connecting students with faculty advisors early in a student's academic experience.
Keeping advisors up-to-date regarding program or major requirements.
Providing appropriate resources with accurate information on transfer requirements with the institutions where you have articulation agreements.
Encourage advisors to develop advisee relationships beyond signing a registration form.
Posting and maintaining office hours for students to meet with advisors, especially during peak service periods.
Offering triage services to answer basic advising questions during high-demand time periods.
Celebrating when advising is identified as an institutional strength and providing positive feedback to advisors about the value of the relationships with students.
It is especially important to pay attention to student satisfaction levels with the advising experience because higher satisfaction in this area in particular has also been linked to higher institutional graduation rates and higher alumni giving rates.
I invite you to download the full report to take a closer look at student perceptions in a variety of areas and to consider additional suggestions for improving student satisfaction on your campus.
What can you do to improve student satisfaction at your institution?
Are you assessing student satisfaction regularly on your campus? Hundreds of campuses survey their students at least once every two years (often alternating satisfaction surveys with assessments of student engagement) to gather current, institutional-specific student feedback which can guide student success efforts and strategic planning. The data can also be useful for accreditation documentation and to identify positive areas to highlight for recruitment activities.
Do you want to learn more about making the most of your investment in student satisfaction assessment? I invite you to join me, in person, for a free half-day workshop just prior to the National Benchmarking Conference in Overland Park, Kansas on Monday, May 2, 2016. Learn more and register here.
I will also be presenting and exhibiting at this year's Association of Institutional Researchers Forum in New Orleans, May 31 – June 3, and I would welcome the chance to talk with your institution about student satisfaction efforts. Send me an email if you would like to schedule a time to meet or if you have any questions about this year's National Student Satisfaction and Priorities Report findings.
---