student success
College Freshman Motivations: Five-Year Trends
As I was preparing the data and draft for our 2019 National Motivation to Complete Report (showcasing national college freshman motivations results from the College Student Inventory), I was reflecting on the fact that the beginning of March, I celebrated my fifth anniversary working full-time with Ruffalo Noel Levitz (RNL). This inspired me to think not just of the 2018 data before me, but also about what the 2013 data looked like when I joined RNL in March 2014. So, we went back to the 2013 College Student Inventory data to take a look and found some very interesting trends.
Here are key five-year college freshman motivations trends from 2013-2018:
A decrease in the students' value of college
Increased confusion over career decision making
An increase in the percentage of students who feel pressure to earn extra money will interfere with their studies
A growing demand for help to improve reading skills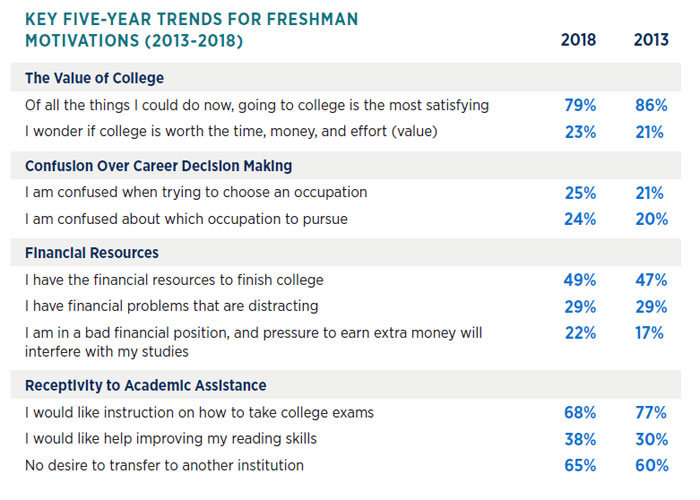 These observations, lend themselves to questions to ask on your campuses:
How are you communicating the value of earning a degree from your institution to your prospective AND current students? How intentional are you being in "re-enrolling" the students you have to improve retention and graduation rates?
In what ways can you create a career development "eco-system" so the career decision making process is embedded in classroom as well as co-curricular experiences from the 1st day of the student experience?
How can you identify the students who are working more hours, knowing this may jeopardize their academic success? How can your on-campus employment program be part of the student success solution?
Most campuses have a writing center and a math center—what about a reading center? Or resources to help students improve their college-level reading abilities?
What other changes in motivation and non-cognitive factors that influence student success in your student body are occurring over time? Are your programs, policies and services in line with today's college freshman (of all ages)?
The College Student Inventory measures non-cognitive and motivational factors that contribute to college success. First introduced in the mid 1980's, the CSI remains the longest standing, continuously used motivational assessment in higher education.
Download our full report on college freshman motivations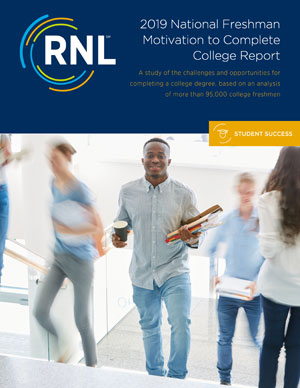 The 2019 National Freshman Motivation to Complete Report is now available—download the report to see more on these trends as well as the eight recommendations for action based on over 95,000 student reports.
And, if you missed the webinar on the 2019 National Freshman Motivation results, you can watch the recording and see the slides.
Would you like to discuss these findings as well as trends you are observing on campus and ways in which our clients are addressing the motivational needs of their students—both traditional aged, transfer and adult? Please email me and I will be happy to discuss your opportunities.