enrollment
Where Is the Graduate Education Market Headed?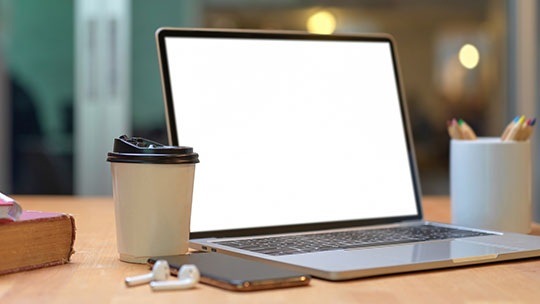 Earlier this month, the Council of Graduate Schools (CGS) released their annual "Graduate Enrollment and Degrees 2012-2022" report. The headline in Inside Higher Education was that graduate enrollment contracted by 4.7 percent year-over-year (while applications rose by 3.9 percent). The story seemed to be ringing the alarm bells that institutions should not be over-confident if applications are up—because resulting enrollment did not follow. What seemed to be missing in the story is the fact that increased apps and declining enrollment is a sign of either:
poor quality leads
ineffective conversion
slow admittance policies
a combination of all of these.
But let's return to the data. My two go-to data sources are IPEDS and National Student Clearinghouse (NSC). While IPEDS has not yet released 2022 data, NCS released their Fall 2023 data on October 26 and they report year-over-year graduate growth of 0.7 percent, which nearly erases last year's contraction of 0.9 percent.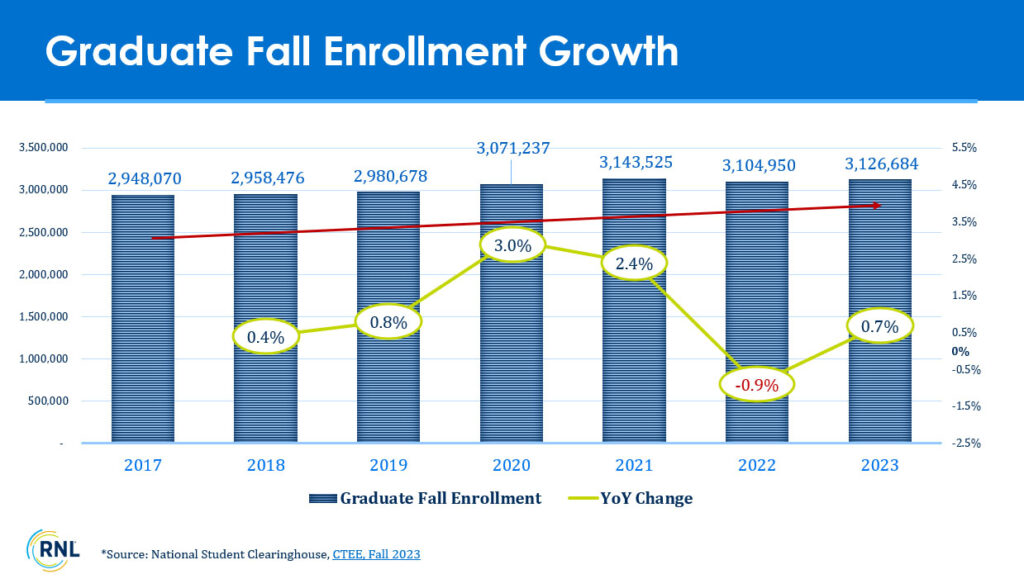 The CGS report indicates that their survey was sent to the 762 institutions that are either members of CGS or one of its four affiliate regional associations (source: Introduction, p.3). Responses were submitted by 558 institutions—a 73 percent response rate. Pretty good, right? From a researcher's perspective that type of response rate is fantastic. Good so far. What's my concern? First, LightcastTM (using IPEDS data) reports that more than 1,900 institutions reported graduate level degree production in each of the last three years. All of this implies the CGS sample represents about 28 percent of graduate schools. Still an excellent sample.
So what is the problem? Some of the most innovative institutions—some of the most responsive to student expectations—are not members and therefore are not represented in the CGS data. As far as I can tell after consulting the CGS member list, Southern New Hampshire University, Western Governors University, Liberty University, Grand Canyon University, University of Phoenix, and Capella University are not members. What do these institutions have in common? They are among the 15 institutions enrolling the largest numbers of graduate students in the United States.
What would the trend look like with these schools included? We get some idea in the Clearinghouse data with its 0.7 percent reported graduate growth. We don't yet know what IPEDS data will say, but what we do know is that institutions that set out to meet students "where they are" are succeeding and institutions that are not are more often struggling.
What to do? Whether or not the 2022 data prove that graduate enrollment is up, down, or flat, institutions need to align with student expectations and search patterns. What does this mean? Here is the short checklist of things you need to be doing:
Marketing your programs on the channels that students use to find programs.
Develop and use personas that reflect the types of people who enroll in each of your programs.
Respond to inquiries and early questions within hours (not days) of receipt.
Ensure that communication is personalized, and includes emails, texts, and phone calls.
Offer instruction in accelerated terms.
Offer online versions of most of your high demand programs.
Reflect the skills employers indicate are most important in each of your programs.
Admit students in a timely manner, ideally within one week of receipt.
How did you do? If you are wondering what the passing score is, I can't tell you. Not delivering on any of these could be the difference between growth and contraction. Why is this?
It's all about who we are serving today.
It is undeniable that graduate programs now serve not one but two generations—Millennials and Gen Z—who have grown up in a customized, personalized world, with the less demanding (and patient) Gen X comprising less than 20 percent of today's graduate students. These new students expect a personalized experience and approach their enrollment decisions using a consumer mindset. As such, and given their unprecedented level of choice of program options, they will not settle for a program that does not match their needs.

Uncover your optimal strategies with an RNL Opportunity Analysis
Talk with RNL's senior executive team about how you can navigate your challenges and find the right strategies to reach your goals. We have collectively conducted hundreds of assessments, and we can conduct one for your institution virtually or in person. You will be surprised at the wealth of information you will learn.
What has caused these changes in expectations?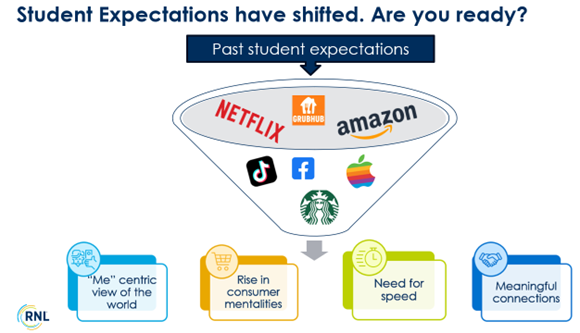 Consider the experiences of people in their 20s and 30s today compared with those of someone in their 40s or older (who are far more likely to be managing enrollment, marketing, and academics at a typical institution). They purchase everything from their next meal to new shoes from their sofa and have it delivered with no waiting. They are greeted by name when they pick up their coffee or prescriptions. Their product returns are handled without argument or discussion. All of these "inputs" have resulted in critical shifts in expectations, many of which we will assess from the institutional side in this report.
Where does this find us?
Whether the graduate education space is static, contracting, or continuing to grow, these new realities mean that those programs that are most adept at matching student expectations, demands, and preferences will be the programs that will grow while those that do not are the most likely to struggle among this demanding population. Throughout this report, our analysis of what graduate marketers and recruiters are doing will be grounded in the data we gathered earlier this year among more than 1,500 graduate students.
RNL experts who work with hundreds of schools and programs each year provide comment throughout this report on how current practices align with student preferences and what institutions may need to do to either capitalize on current strengths of make changes in order to grow enrollment. We can conduct an eye-opening Opportunity Analysis. Available virtually or in person, we will share market data and trends, and offer a set of recommendations to tune-up your processes. Reach out and we'll set up a time to talk and see if an Opportunity Analysis will illustrate a path to successful enrollments.
---