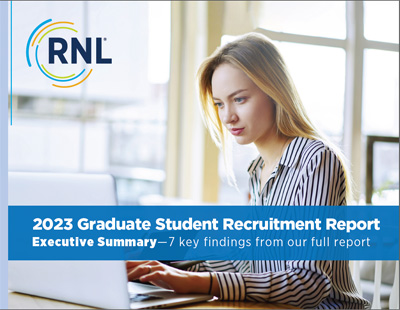 WANT TO READ THE FULL REPORT?
Check the box on our form to ask for a complimentary consultation with our graduate enrollment experts, and you'll receive the full 44-page report with all 25 findings.
See 7 key findings from the 2023 Graduate Student Recruitment Report
Graduate education is a key path to growth and stability for universities. However, prospective graduate students have very different behaviors and expectations than traditional undergraduate students. How can you meet their expectations, engage students more effectively, and move them quickly toward enrolling?
Discover key findings in this executive summary of the 2023 Graduate Student Recruitment Report. This report surveys 1,500 prospective, current, and recently enrolled graduate students to learn how they search for programs and make enrollment decisions. Read this Executive Summary to learn:
The main reason students decide to pursue graduate study.
How many graduate programs students apply to.
The preferred instructional formats for graduate classes.
How students start their search for a graduate program.
Who graduate students want to receive a reply from after they inquire.
How much affordability influences enrollment decisions.
Complete the form to read this Executive Summary, and ask for a complimentary consultation to read the entire report
The full 44-page report contains 25 findings as well as insights from RNL's graduate enrollment experts. You can receive the full report and discuss those findings by requesting a complimentary consultation. Simply check the box above when you complete this form and we will set up your consultation and provide you with the full report when we meet.