enrollment
Phil Hill Talks About the Impact of New IPEDS Data on Institutions and EdTech
I've been reading Phil Hill's excellent blog (PhilOnEdTech) for the last few years, and have wanted to talk with him many times. I finally picked up the phone to talk with him about a set of blogs he wrote about new data from IPEDS that indicate that they've been undercounting online students by almost 2 million students. I was so fascinated by the new data that I did some additional analysis myself in another blog, but watch my interview with Phil in this post.
Here is an abridged summary of our conversation.
Phil Hill: A big part of writing both the blog on the 2019-20 data and the 2020-21 data blog (on the need to focus on 12-month unduplicated enrollment rather than fall snapshot) was to point out how much we've needed this type of data. These data bring us a lot closer to what is really happening in higher education: a consistent focus on the importance of flexibility. It's flexibility of instructional modality, but it's also flexibility in when a person can and will take courses. In the past this discussion (about 12-month unduplicated versus fall snapshot data) has been viewed as a very wonky-type of data collection policy issue, and for that reason not many people paid attention to the details.
But the blog post made clear that this is a really big deal. There are HUGE differences in the numbers of online students and partially online students between the two data sets and IPEDS has been dramatically undercounting online students. Even pre-pandemic, we were hearing that one in three students take at least one online course. That's based on the census approach. Well, if you look at it from the 12-month unduplicated headcount, which is more representative of a reality, it's well over half for doing this. And so, there are strategic implications to getting the data right. It's not just a wonky issue with some minor data differences. And once again, it comes down to flexibility as the driving force that schools have to deal with today, and what students are demanding.
If we set aside the 2020-21 data that was so heavily influenced by the pandemic, your blog indicated that in 2020-19 (when the format categorizations would have been set prior to the onset of the pandemic), there were 1.8 million undergraduate students and more than 440,000 graduate students missing from the fall census data.
Scott Jeffe: It was interesting to me that you point out that almost all of these additional students chose to enroll in either all online courses ("all distance") or some online courses ("one or more distance"). So, an even larger proportion of most institution's enrollment is derived from online students than we all thought. What do you think the implications are for institutions and for the EdTech sector?
Phil Hill: I think there's an indirect impact on EdTech. The path is clear for schools that want to improve their enrollment profile, and it's through offering flexibility, offering online options. It's not necessarily going to be easy and its not going to solve every challenge, but that is the way student demand is pointing. From an EdTech company perspective, the core focus needs to be: how are you actually helping schools create that type of flexibility? It's not just, "Can you go online? Can you scale?" A lot of the support is likely needed just to offer courses that start multiple times per year. That's a tricky issue because of accreditation. Financial aid is an even bigger than accreditation. Another is how do institutions register
students who might start as non-credit or non-degree students, but then want to shift over to degrees or other credit-bearing credentials. Many of these things intersect with the student information system.
So the point is, I think a big implication for Ed Tech is the focus on how you can help enable a school to be much more flexible with multiple starts per year and multiple types of entry points into programs and the constellation of issues that intersect with these student demands.
SJ: You think EdTech every day. Have you developed any opinions on the things that you think institutions really need to do and the things that probably are better for them to perhaps think of using a partner for?
Phil Hill: I deal with that a lot, particularly in my work focused on the online program manager (OPM) space, because that's such a big question at the core of that market. What should institutions be doing in-house versus outsourcing? Clearly, instruction, how you teach, how you evaluate quality and outcomes of instruction are the core of the academic mission. School needs to focus on making sure that whatever they do—even if they use a partner to help them—they are advancing and improving their own capabilities for the long term. There are other things, student life for example where there is a strong argument for developing core competencies to be more flexible. At the same time, institutions don't want to do is say, "I know we're going to move this direction, but it's going to take five plus years just to even get started." So I think a lot of the thinking around when schools should outsource isn't necessarily to say, "I should never do this as a school," but should rather be "how do we get started and how do I start learning from my partner?" Things like digital marketing, student support, defining and positioning a program, all may be things to consider seeking a partnership. Schools shouldn't view it as "well we will never care to develop that competency and therefore we outsource," but rather "we can't wait five years debating about it in committee before we get started." A partnership can often get them going much quicker, and if the partnership is a good one, it doesn't have to be forever.
Read the 2022 Online Program Marketing Practices Report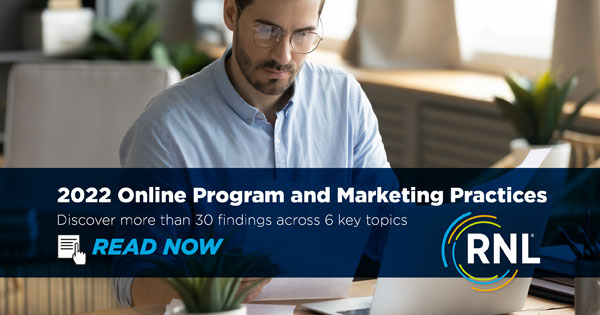 See more than 30 findings from a survey a enrollment professionals, including online program strategies, marketing and recruitment tactics, and admissions strategies and responsibilities.
Read now
.
---