enrollment
Online Leaders Indicate Significant Spending on Marketing
RNL's new survey of more than 100 institutional marketing and recruitment leaders confirms that significant investments have been made in building and promoting online programs since the pandemic began. The report, RNL's 2022 Online Program Marketing and Recruitment Practices, report is RNL's second ground-breaking report focused on online education and aligns with our earlier Online Student Recruitment Report.
While the earlier student report focused on student expectations, the marketing and recruitment practices report presents current practices being employed by more than 100 institutions who offer fully online programs. They survey was conducted electronically in July and August 2022, with 54 percent of respondents representing public institutions and 46 percent representing private non-profit institutions.
Three key findings underscore the investment that institutions are making.
Expansion of online offerings
While only nine participating institutions haven't added any new online programs, public institutions are more likely to have added five or more programs than are private institutions. Among public institutions, 39 percent have added five or more, compared with just 28 percent of privates. Public institutions were much more likely to have added more than 10 online programs since the pandemic began—15 percent of public institutions reported that number compared to 9 percent of private institutions. Read the report for more information about the availability of online programs by level and how they are expanding their offerings.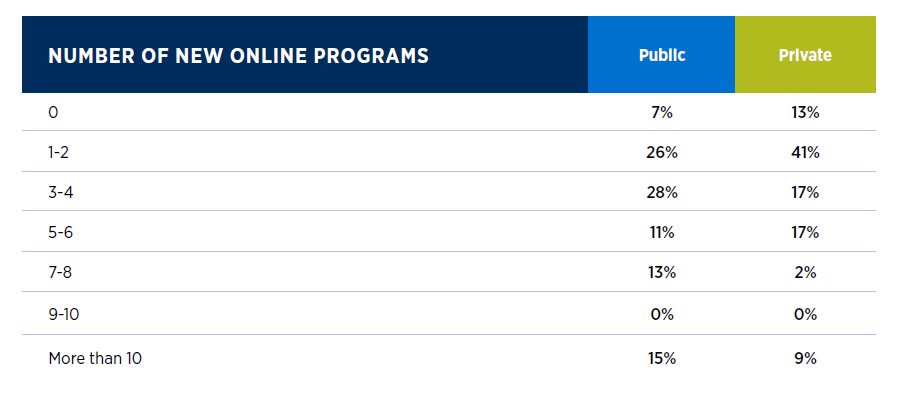 Marketing budgets
Institutions have clearly begun to understand what it will take to successfully compete in the online education market. The average online program marketing budget (not including any overhead costs) is in excess of one million dollars. Public institutions reported an average of $1.04 million, and privates reported an average of $1.14 million. Read the report for more information the messages being highlighted, the average distribution of marketing dollars across various marketing strategies, and the specific channels most frequently being used.

Recruitment teams
The average size of the online program recruitment team at public institutions is twice the size (14 members) of that of private institutions (7 members). The recruitment (and marketing) process is also significantly more likely to be centralized in an institution-wide office for online undergraduate degree programs than it is for online graduate programs. While this is likely a legacy of traditional enrollment operations, centralization is likely to be a key to success as online enrollment moves from fringes to the center of enrollment health. Read the report for more information on details of online program recruitment operations, hours of operation, and who is responsible for what in these processes.

See more than 30 findings in the 2022 report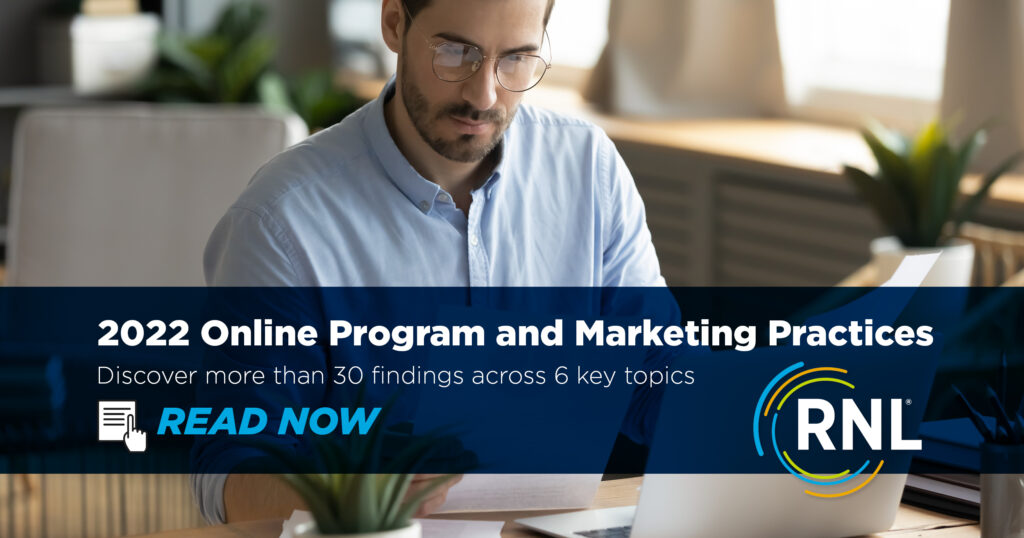 The dozens of findings in this new report provide a baseline upon which institutions can compare themselves and see how they are measuring up against today's norms. But even more importantly, this new report focuses significant attention on how today's practices match (or mismatch) the expectations of online students as profiled in RNL's 2022 Online Student Recruitment Report.
Download 2022 Online Program Marketing and Recruitment Practices now to see the complete findings. And if you want to see how you can determine which marketing and recruitment practices best align with your enrollment goals, reach out to our enrollment experts for a complimentary consultation.
---